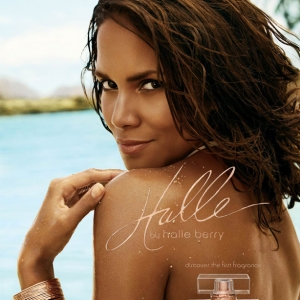 "I have been making signature fragrances my whole life. When I was little I would go into my mother's bathroom and I would take her two favorite fragrances and I'd mix them in an attempt to go to school and have something none of my classmates had on."
That's Halle Berry on her long history with creating scents… so it only makes sense (ha!) that she decided to team up with Coty to launch her own fragrance. Two years in the making, Halle by Halle Berry has just FINALLY hit shelves and is available at JCPenney and Kohl's (and will be even more widely available beginning in May).
VIEW THE PHOTOS: The Latest Star Sightings
Halle says when it comes to creating a perfume, there are no limits! "So many ways to go you can go earthy and natural, you can go woodsy and musky you can go fresh and sweet." But the 42-year-old describes her own fragrance as "warm and very sensual."
The fragrance features top notes of two of Halle's favorite scents: fig and mimosa. "Then there's also olibanum root which is an African root that gives it a little spiciness and then there's a sort of a creamy sandalwood that sort of brings it all together and smoothes it out." Additional notes include bergamot, pear blossom, freesia, hibiscus, driftwood, cashmere musk, and sensual amber.
Halle by Halle Berry is certainly affordable retailing for $17-$35. And the best thing is, Halle swears by it. "When you look at my handbag on any given day of the week-- you can test me one day--I will have this in my bag and this is what I will be wearing!"
Related Content from AccessHollywood.com:
VIEW THE PHOTOS: Oscars 2009: Inside the Show!
PLAY IT NOW: Access Extended: Halle Berry: New Mom, New Fragrance
PLAY IT NOW: Access Archives: Halle Berry

MORE ACCESS ON THESE TOPICS: Halle Berry - Style - Glam Slam - TV One

Copyright NBCAH - Access Hollywood