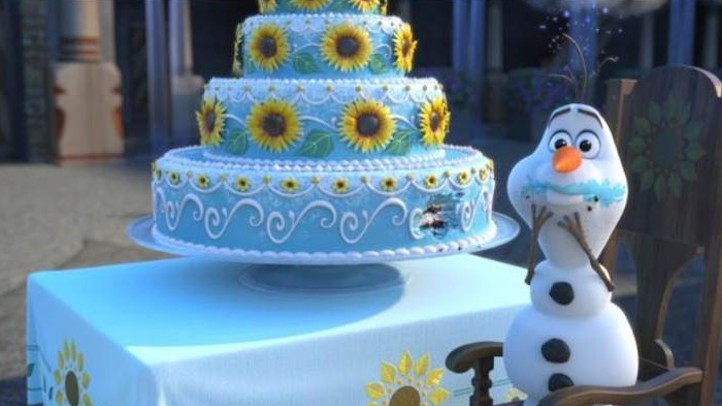 "Frozen" is back.
Sorry, parents, as of March 13 your kids will officially be obsessed with "Frozen" all over again as the new, 7-minute short, "Frozen Fever" debuts before Disney's live-action "Cinderella." There have been some details given ahead of its highly anticipated release, but now we have a full-length trailer.
The gang—Anna, Elsa, Kristoff and Olaff—is back and celebrating Anna's birthday. Although it's supposed to be a surprise, Elsa's ice powers seem to get in the way of planning. Of course, in typical Disney and fairy-tale fashion, nothing will stop the group from giving Anna the birthday party of her dreams.
We also get to see Olaff up to his old tricks again, snacking on the gorgeous birthday cake before it's time to cut it.
Not only do we get to see the group hanging out again, we also get a quick preview at the new song. Maybe instead of singing "Let It Go" for the next year, we'll be singing this original song, which features lyrics such as "Making today a perfect day!"

WATCH: Frozen and Breaking Bad collide in epic parody
Oscar-winning songwriters Robert Lopez and Kristen Anderson-Lopez are back for "Frozen Fever," so you know this song will be as catchy as possible.
Although we're itching to see this short, we're also pumped that there's still a slim chance that a full-on sequel could be in development. When asked about a follow-up film, Idina Menzel didn't exactly shut it down.
"Ah, yeah sure," the Broadway vet told The Telegraph. "I don't know what will happen with [the stage show] but the movie, hopefully. We'll see. I'm just going along for the ride."
Copyright E! Online