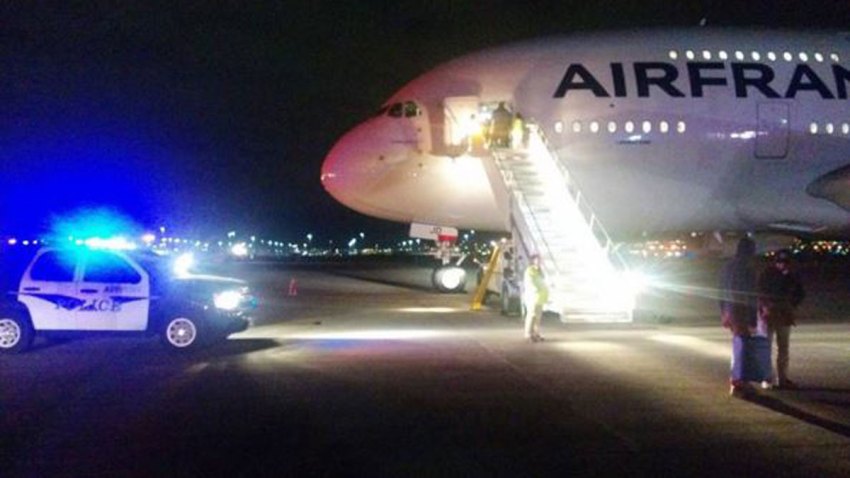 Two separate Air France flights that were diverted because of anonymous bomb threats were cleared by authorities early Wednesday morning.
The FBI told NBC News there was no evidence to suggest that the threat was credible. The Royal Canadian Mounted Police also said there was no evidence of an explosive device after searching the plane and luggage.
Air France said in a statement Tuesday that the airline received anonymous called-in threats and diverted the flights — one leaving Washington Dulles and one leaving LAX — for precautionary measures.
The flight traveling from Los Angeles at around 4:00 p.m. PT to Paris with 473 people aboard deplaned in Salt Lake City, Utah, for a "security issue," the Federal Aviation Administration confirmed with NBC Owned Television Stations.
Local authorities inspected the planes, passengers and luggage.
Keith Rosso, a passenger on the plane from Los Angeles, was traveling with his fiancé to Paris.
People on the plane were eating two hours into the flight when attendants moved "pretty quickly" to collect everyone's food trays, informing passengers to prepare for an emergency landing, Rosso told NBC Los Angeles.
"The situation was handled very well," Rosso's fiance, Liz Papera told NBC Los Angeles. The crew made an announcement that we said they were highly trained in these kind of "emergencies," Papera said.
The second flight, traveling from Washington Dulles to Paris, had its 234 passengers exit the plane in Halifax, Canada.
Halifax International Airport wrote on its Facebook that the plane from D.C. to Paris landed safely in Nova Scotia.
Passengers and crew members were shuttled off to hotels for the night after the plane was cleared by authorities, the Halifax airport tweeted.
The emergency landings come amid high security measures being taken by France and the United States after a terrorists swarmed Paris on Friday night left 129 dead and hundreds wounded.