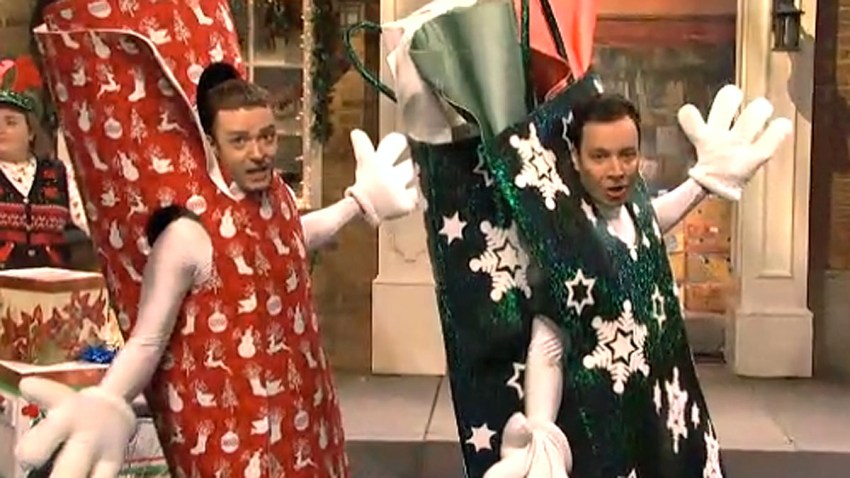 This week's "Saturday Night Live" certainly channeled some holiday spirit as host and show alum Jimmy Fallon and musical guest Justin Timberlake reunited for a star-studded Christmas episode.
Timberlake appeared in a recurring, fan-favorite sketch, this time as a giant roll of wrapping paper. Competing with a vendor trying to gift wrap for charity (Aidy Bryant), Timberlake was ready to bring it on down to Wrappinville, and Fallon's human-sized gift bag jumped in to help drum up interest for their gift wrapping business.
The two performed wrapping paper-themed tunes from Michael Jackson, Macklemore & Ryan Lewis and Gotye's "Somebody That I Used to Know."
"We're professional wrappers, we offer a wide range of services from traditional packages that are tasteful," Timberlake explained. "To gift bags that are not wasteful," finished Fallon.
"Can you handle that?" said Timberlake, pulling on Fallon's "handle" on his gift bag costume.
Fallon and Timberlake also teamed up once again for the "The Barry Gibb" show. They were interviewing Fox News anchor Megyn Kelly [Cecily Strong], Paul Ryan [Taran Killam] and Madonna, who made a cameo appearance. Naturally, Fallon as Barry was short-tempered with his guests -- only Madonna was able to get a few words in and sort of tame Barry's angry outbursts. The real Barry Gibb came out to dance with Fallon and Timberlake at the end of the sketch.
In his opening monologue, Fallon began introducing three of his "idols," David Bowie, Sir Paul McCartney, and Bob Dylan to sing some Christmas carols, but then said they were all stuck in traffic. He instead attempted impressions of all three in the same song. In the middle of Paul McCartney's part, McCartney himself showed up, claiming to have ridden in on a Citi bike.
"Weekend Update" with Seth Meyers and Cecily Strong covered news ranging from North Korea's newest threat to the "Duck Dynasty" controversy.
"This week we learned you can judge a book by its cover," said Meyers, referring to "Duck Dynasty" patriarch Phil Robertson, who was suspended from the A&E series indefinitely after making disparaging comments about gays.
Meyers then mentioned those who criticized A&E's move to suspend Robertson, including Republican Sen. Ted Cruz, conservatives Glenn Beck and Sean Hannity and Louisiana Gov. Bobby Jindal, "or as they are collectively known: Dork Dynasty," he said.
Strong reported that North Korea this week sent a threatening message to South Korea -- via fax, and joked that the regime has relics of the '90s laying around. She proceeded to show a picture of former NBA bad boy Dennis Rodman, who was in Pyongyang to train local basketball players.
Meyers talked to tennis great Billy Jean King (Kate McKinnon), an openly gay athlete who was selected by the White House to be part of the U.S. delegation to Russia for the Sochi Winter Games in February. King claimed she was "President Obama's big gay middle finger" in response to Russia's anti-gay laws.
"Putin is going to find himself in the epicenter of a gay tornado," King said.
Fallon and New York City Mayor Michael Bloomberg also took part in "Weekend Update," discussing what they're looking forward to in 2014. Bloomberg, who is leaving office at year's end, said he'll be "fulfilling a life-long dream of enjoying a small soda on a non-smoking beach." Fallon said he is excited to be taking over for Jay Leno on NBC's "The Tonight Show" following the Olympics.
This week's show also included a parody of the holiday song "Baby It's Cold Outside" and a spoof on the classic "A Christmas Story."
Justin Timberlake performed "Only When I Walk Away" and "Pair of Wings," songs from The 20/20 Experience – 2 of 2 album.