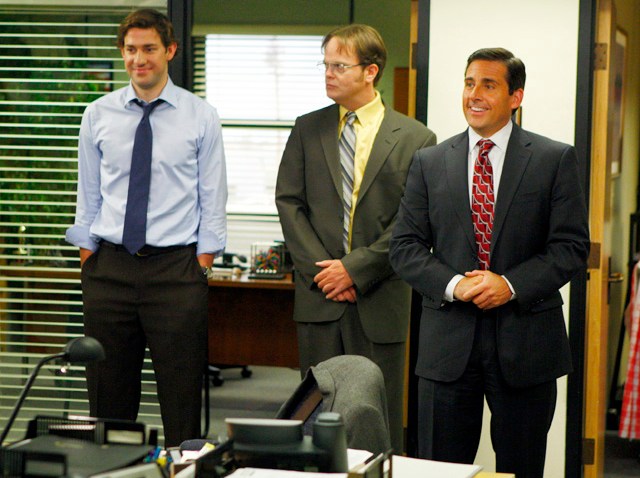 The proprietor of a certain Pennsylvania B&B can be a bit overbearing, but he can teach you how to skin a muskrat, surveil your boss or demolish a kitchen.
And according to TripAdvisor, there is so much more to do and learn at Schrute Farms, a picturesque beet plantation run by a colorful local businessman and his furtive, vaguely Amish cousin Mose. It's in the vanguard of a new and completely stagnant sector of travel called "agrotourism," and it, well, it doesn't actually exist.
"Schrute Farms is the number one beet-related agrotourism destination in Northeastern Pennsylvania," says its entry in TripAdvisor. "We offer the finest accommodations for the casual traveler and/or beet enthusiast. Come join us and experience majestic Schrute Farms."
The fictional farm grew out of a hilarious episode of NBC's "The Office," in which Jim, Dwight Schrute's nemesis as Dunder-Mifflin, refers to a TripAdvisor page for the farm. Jim and Pam spend a night at the B&B, learning how to make tables and beet wine, and spreading manure.
TripAdvisor officials capitalized on the mention, creating a review page for Schrute Farms. "We don't have a big marketing budget and don't do TV ads, Chief Markeng Officer Christine Peterson told The New York Times. "This was the big time."
Since then, more than 600 people have written reviews. A recent example:
"A lovely B&B that Brittany and I have enjoyed visiting for years. It truly is a destination location. The sweet smell of beets and Mose gutting a opossum for the afternoon stew always reminds me why we stay in the horse loft suite. When you are driving the ox and plow in the summer heat with the own...er Dwight telling tales of how he is faster than 80% of all snakes you too will feel like it's your home. Make the most of this trip, the table making experience is the best."
Scroll through enough reviews, and you'll even find one from Jim and Pam ("JandP2").
"The architecture reminds one of a quaint Tuscan beet farm, and the natural aroma of the beets drifts into the bedrooms and makes you dream of simpler times. You will never want to leave your room. The informative lecture will satisfy all your beet curiosity, and the dawn goose walk will tug at your heart strings. Table making never seemed so possible. Great story to tell your friends. Plenty of parking! The staff's attention to detail and devotion to cleanliness was limitless. From their enthusiastic welcome to the last wave good-bye, Schrute Farms delivers."