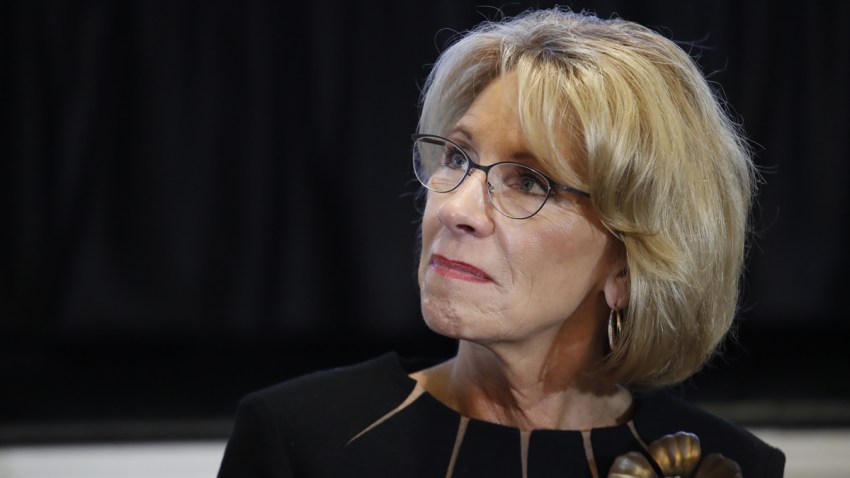 President Donald Trump signed an executive order Tuesday aimed at signaling his commitment to historically black colleges and universities, saying that those schools will be "an absolute priority for this White House."
HBCU presidents are hoping Congress will bolster Trump's actions to strengthen the schools with dramatically increased funding in the upcoming federal budget. They are calling for $25 billion for infrastructure, college readiness, financial aid and other priorities. Under President Barack Obama's administration, historically black colleges and universities received $4 billion over seven years.
"The next step is the budget. You cannot have mission without money," Thurgood Marshall College Fund President Johnny Taylor told reporters outside the White House after the signing ceremony.
Many of the college presidents also went to Capitol Hill on Tuesday to lobby Congress for more funding. Taylor said the $25 billion is needed to make up for years of underfunding and would cover the country's more than 100 HBCUs.
Meanwhile, Trump's Secretary of Education Betsy DeVos is still drawing criticism over a remark she made Monday on HBCUs. DeVos said that historically black colleges and universities were leaders in school choice, sparking uproar over the fact that the schools were founded because most African-Americans in the era of "separate but equal" who wanted a higher education had no other options.
Her statement Monday came as presidents from a majority of the country's historically black colleges and universities were in Washington to meet with Trump, and congressional leaders Tuesday, calling for $25 billion in the upcoming budget to help address priorities including infrastructure, college readiness and financial aid.
Trump signed an executive order aimed at signaling his commitment to the schools Tuesday.
DeVos looks forward to elevating the schools' role in the Trump administration, she said in a news release Monday, and called them "real pioneers when it comes to school choice," a term used for alternatives to public education — something for which DeVos has staunchly advocated.
"They started from the fact that there were too many students in America who did not have equal access to education. They saw that the system wasn't working, that there was an absence of opportunity, so they took it upon themselves to provide the solution," she said in the statement.
She also called the schools "living proof that when more options are provided to students, they are afforded greater access and greater quality."
DeVos's speech at a lunch Tuesday clarified that she the schools' were born "out of necessity, in the face of racism." But many have taken her initial comment to be willfully ignorant of the situation that produced historically black collegs and universities.
The Department of Education's Office for Civil Rights notes that they were created because "blacks were generally denied admission to traditionally white institutions" and "became the principle means for providing postsecondary education to black Americans."
Sen. Claire McCaskill (D-Mo.) said DeVos's statement was "totally nuts." In a tweet Tuesday, McCaskill add DeVos is "pretending that establishment of historically black colleges was about choice not racism."
Wayne A.I. Frederick, president of Howard University, told NBC Washington he didn't want to second guess anyone, but that the school was founded 150 years ago to create an opportunity for students who had none.
"Back then, we did not have the opportunity to make choices freely," he said. "Students were presented with an opportunity in 1867 to attend an institution of higher learning and that's what we're still trying to do in 2017."
When asked about Devos's school choice comment, a Department of Education official directed NBC to Devos's remarks on Tuesday.
Her nomination was the most contentious of Donald Trump's Cabinet members, drawing ridicule for remarks about guns being necessary in a Wyoming school because of a threat from bears, something the school later denied. Her confirmation required a tie-breaking vote from Vice President Mike Pence.
Trump met briefly with the college leaders on Monday, posing for a photograph in the Oval Office before the group met with DeVos and Pence. That meeting also sparked some criticism on Twitter after a news photo showed presidential adviser Kellyanne Conway kneeling on an Oval Office couch, with her feet behind her and looking at her phone. Conway has not commented on the photo, though other photos show she had been trying to take a photo of the group.
Trump's moves are among the actions some college presidents said they would like to see coming from the new administration. For some, their decision to come to Washington was over the objections of students and alumni, but they say they can ill afford to play politics as Trump moves quickly to set priorities.
Florida A&M Interim President Larry Robinson said it is important for schools like his to have a seat at the table early.
"We are the subject matter experts in terms of what needs to be done," Robinson said. "We wanted to communicate that to those who were receptive of doing something on our behalf ... regardless of who's sitting in the White House, or what their political affiliations are."
More than 231,000 students enrolled at black colleges and universities in 2014, according to the National Center for Education Statistics. Almost 80 percent were black. But HBCU enrollment declined from 326,614 to 294,316 between 2010 and 2014, according to NCES data. And in the past generation, the percentage of black college students attending HBCUs dropped from 18 percent of the overall total of black college students in 1976 to 8 percent in 2014.
Copyright AP - Associated Press