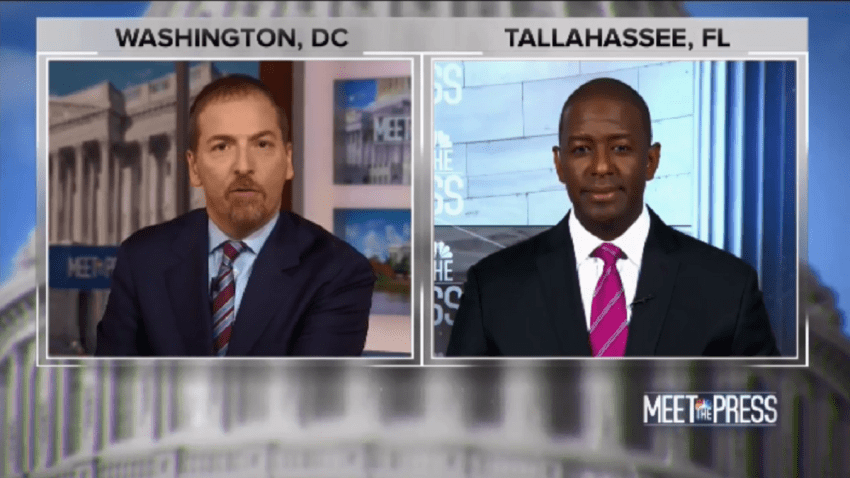 Andrew Gillum, the man who could become Florida's first black governor, is calling on his opponent to refrain from name-calling and to focus on the issues after Ron DeSantis' controversial "monkey this up" comment.
Gillum is Florida's Democratic nominee for governor. He faces Republican Rep. DeSantis in November.
Gillum was responding to a comment made by DeSantis the day after Tuesday's primary. DeSantis had said that voters won't "monkey this up" by electing Gillum.
Gillum told NBC on Sunday that DeSantis is Harvard-educated and should know better than to use such language.
Some Democrats have called the remarks racist. DeSantis' campaign said that he was referring to Gillum's policies, not him personally.
"I have not called [Rep. DeSantis] a racist" but "his rhetoric, in my opinion, has to be toned down," Gillum told Meet the Press' Chuck Todd.
Gillum also discussed the robocall after the election from an Idaho-based white supremacist group identifying itself as The Road to Power that impersonated him. In the call, a man speaking in an exaggerated minstrel dialect identifies himself as Gillum as drums and jungle noises are heard in the background.
Gillum said he noted that Republicans denounced the robocall but suggested the thoughtless use of charged language could further generate race-related issues.
"We cannot afford to weaponize race. People take cues from their leader, and Ron DeSantis is the leader," Gillum said, adding that DeSantis "must be careful about his language."
Todd said DeSantis and his campaign have declined at least two interview requests.
While saying he wouldn't engage in name-calling during an appearance on MSNBC, Gillum also said he wasn't going to compete in a "pig fight" with DeSantis and President Donald Trump, who endorsed DeSantis and has used Twitter to criticize Gillum.
"I'm not going to follow him and Donald Trump down into the swamp of politics. My grandmother used to say, 'When you wrestle with pigs, you both get dirty, but the pig likes it,'" Gillum said. "I'm not going to be able to compete and win in a pig fight with these guys."
Also Sunday, DeSantis said in an interview with John Catsimatidis of 970 AM radio in New York that Gillum "will turn Florida into Venezuela."
"Florida's a great place to be, to live, to do business, to retire. We need to build off the success that Florida's enjoyed, and if you have a guy like this — and that being a socialist-style agenda — that's going to absolutely destroy all the progress that Florida's made," DeSantis said.
DeSantis and Gillum are competing for the seat held by Republican Gov. Rick Scott, who can't seek re-election due to term limits and is instead challenging Democratic U.S. Sen. Bill Nelson.
Copyright AP - Associated Press