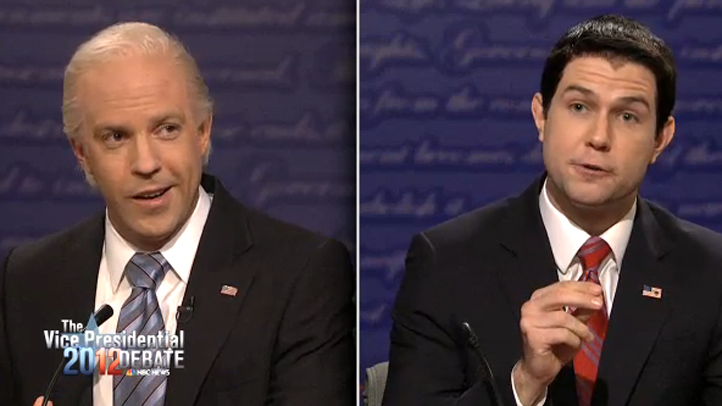 Jimmy Fallon, offering perhaps the strongest parody of the comedy-crowded campaign debate season, played Mitt Romney to Dion Flynn's dead-on President Obama last week, showing both men cracking wise on the phone to one another as they watched the vice presidential debate.
Obama notes that he advised Vice President Biden if he became stuck, "just say the word 'malarkey.'" When he asks what's up with Rep. Paul Ryan's hair, Romney quips, "He looks like a cross between a CGI Tintin and Eddie Munster."
The funny "Late Night" bit deftly tapped into what a lot of folks, if debate Twitter trending topics ("malarkey" and "Eddie Munster") are any gauge, were thinking during the Biden-Ryan bout. The sketch, with its seemingly cartoonish "Mystery Science Theater 3000" approach, also reflected the way much of the audience has experienced two debates in which pop culture oddly intertwined with politics.
First Big Bird, then "The Munsters." With Obama and Mitt Romney set to meet Tuesday for the second of their three debates, there's almost an expectation that another TV icon will pop up unexpectedly during what's likely to be one of the year's most watched television events.
Bill Maher invoked Eddie Munster during his monologue Friday ("Look how happy old Grandpa Joe Biden made the liberals.... He ate little Eddie Munster's lunch," the Obama-backing host of HBO's "Real Time With Bill Maher" said). So did "Saturday Night Live" in an opening sketch that lampooned Ryan's meme-friendly widow's peak hairdo. The segment also portrayed Biden as a cackling coot – echoing the Laughing Joe Biden Twitter account and similarly themed Internet memes that took off before Thursday's debate ended.

As we've noted, the debates have unleashed a comedic wave that appears unprecedented in its volume and speed, propelled primarily by social media. We're all just a tweet away from publicly mocking events unfolding before us, despite – or perhaps because of – their importance.
Pop culture figures – whether presented to us on a platter, as Romney did with Bird Bird in the initial Oct. 3 presidential debate, or derived from shared snarky observation – offer a shorthand to help process, respond to and, in a sense, participate in the debate.

The most meaningful way to participate, of course, is to vote. But the lead-up to Election Day, for better or worse, includes a growing premium on entertainment – provided, intentionally or otherwise, by the candidates and the audience.
The professional comedians are grateful – Fallon, in his latest "Thank You Notes" segment, thanked Ryan for his workout photos (he likened the GOP candidate to Screech from "Saved by the Bell" on steroids) and Biden for his cornball use of the word "malarkey" during the debate ("If you ask me, that comment was the bee's knees," Fallon said).

As we await more potential debate-fueled comedy malarkey, check out some of our favorite TV parodies generated by the vice presidential sweepstakes:
Hester is founding director of the award-winning, multi-media NYCity News Service at the City University of New York Graduate School of Journalism. He is the former City Editor of the New York Daily News, where he started as a reporter in 1992. Follow him on Twitter.
Copyright FREEL - NBC Local Media