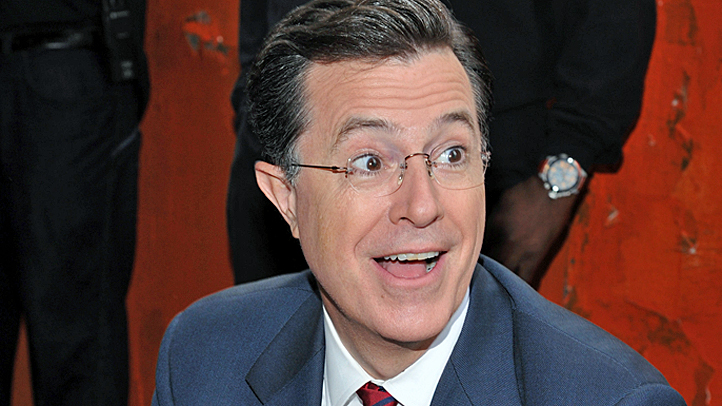 Stephen Colbert devoted much his show Monday night to the online controversy that erupted after a racially insensitive tweet was sent from the Comedy Central show's Twitter account late last week.
For viewers who missed #CancelColbert trending on the social media platform, "The Colbert Report" host gave a truncated version of what happened - in slightly more than 140 characters:
"To recap, a web editor I've never met posted a tweet in my name on an account I don't control, outrages a hashtag activist, and the news media gets 72 hours of content," Colbert explained. "The system worked. But all this started right after I taped Thursday night's show, so I couldn't respond until [Monday]. So in in a sense, I was canceled for three days. Just like Jesus."
The tweet that caused the online ruckus was a joke issued without context from @ColbertReport regarding the creation of a foundation for Asians. The wording was taken from a segment that aired during the March 26 episode in which Colbert's onscreen persona made fun of Washington Redskins owner Dan Snyder and his move to establish the Washington Redskins Original Americans Foundation in response to criticism that the name of the team promotes racism.
Twitter denizens quickly decried the use of such language from @ColbertReport and the #CancelColbert campaign was formed. As the hashtag continued to trend Friday, Comedy Central weighed in to explain that @ColbertReport was not controlled by Stephen Colbert (who uses @StephenAtHome) or his show.
But it wasn't enough to stem the Twitter tide.
I trended for 36 hours straight. Top that, #MuffinsThatLookLikeHamburgers! — Stephen Colbert (@StephenAtHome) April 1, 2014
"The Colbert Report" opened Monday with a dream sequence featuring news headlines related to the outcry ahead of Colbert--outfitted in Washington Redskins garb--being woken by actor B.D. Wong.
"… the interwebs tried to swallow me whole but I am proud to say that I got lodged in its throat and it hacked me back up like a hastily-chewed chicken wing," Colbert said post-dream. "I'm still here. The dark forces' attempt to silence my message of core conservative principles mixed with youth friendly product placement have been thwarted."
"This was close!" he added. "We almost lost me!"
The host went on to say that he "understood how people were offended," and assured viewers that he is not a racist. "I don't even see race, not even my own. People tell me I'm white and I believe them because I just devoted six minutes to explain how I'm not a racist."
Later in the episode Twitter co-founder Biz Stone appeared as the evening's special guest.
"I never want this to happen again," Colbert explained to Stone. "And the network kindly gave me control of @ColbertReport's Twitter feed."
To aid Colbert in his efforts, Stone disclosed that he has "a kill switch that will immediately delete any Twitter account."
"Alright, let's do the thing, let's get it out," Colbert enthused as Stone reached behind the desk to reveal an old-fashioned dynamite trigger box emblazoned with the Twitter logo.
"Hit it!" Colbert demanded. Stone did, and @ColbertReport ceased to exist.