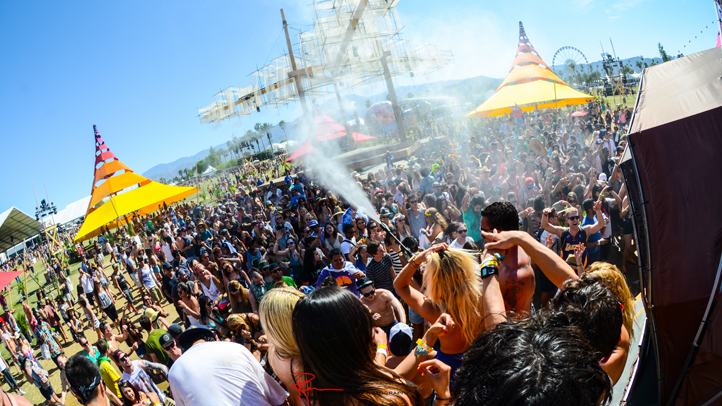 The first epic weekend of Coachella is just days away.
The famed 2-weekend music and arts fest in Indio, Calif., known for its uninhibited spirit and hippy flair, kicks off Friday, with Outkast reuniting for the first time in almost a decade, and other indie and big name music acts like Pharrell and Skrillex getting the party started as well with live performances on stage.
It's also easy to spot a celebrity on the festival grounds or at nearby parties, considering dozens of stars head head here every spring, with the likes of Lea Michele, Zac Efron, Robert Pattinson, Kristen Stewart, Vanessa Hudgens, and many more hitting Coachella in recent years.
Whether you're taking a trip to the festival or just want to know more about it, take a peek at everything you need to know about Coachella this year!
NEWS: Coachella fashion must-haves: shades, fringe jackets, printed jumpsuits & more
The Lowdown: Smack dab in the middle of the desert, celebs and Angelenos head here religiously for two weekends in a row of day and night parties, awesome concerts, art, food and more. You have to have a festival pass to get in (it's already sold out) and the venue opens up at 11:00 a.m. every day regardless if it happens to rain. As for lodging, people generally camp out on-site, stay in a hotel, or rent nearby places for a few days.
The Lineup: This could go down as one of the best lineups Coachella has had in years. During each of the two weekends, music artists perform from sun up to sun down on all three days (Friday-Sunday). Here's some of the artistis scheduled to rock the stage:
For the first weekend, A$ap Ferg, Arcade Fire, Beck, Calvin Harris, Ellie Goulding, Jhene Aiko, Kid Cudi, Lana Del Rey, Lorde, Muse, Nas, Outkast, Solange, Skrillex, and Pharrell are just a few of the big names.
On the second weekend, Those artists will all be back, with Foster the People and Queens of the Stone Age joining them along with many other indie acts.
Friday, April 11 & 18: Outkast, Ellie Goulding, A$AP Ferg
Saturday, April 12 & 19: Lorde, Muse, Queens of the Stone Age, Skrillex, Pharrell Williams, Lorde, Foster the People, Nas, Kid Cudi, Solange.
Sunday, April 13 & 20: Arcade Fire, Beck, Calvin Harris, Lana Del Rey
NEWS: What Hilary Duff is packing for Coachella
The Parties: Coachella isn't just about the music, it's also about the parties. And when it comes to the music fest, there are quite a few see-and-be-seen bashes around.
Details for parties on the second weekend are still trickling in, but, according to the Hollywood Reporter, the fest will kick off with Filter magazine's 12th Annual Yacht Club party Thursday. After that, Details magazine is throwing its Details @Midnight Bash Friday and Harper's Bazaar is hosting a private poolside party with Julianne Hough at the Parker Palm Springs.
Saturday, the H&M Loves Music evening party will include a surprise live performance, and one of the most highly anticipated bashes--the annual Neon Carnival, presented by NYLON &Olay Fresh Effects with GUESS--will also be going down. Lacoste's 5th Annual Desert Pool Party is also a fave event and takes place Saturday as well.
Wrapping up the parties for the first weekend will be Adidas Originals' The Do Over at the Ace--an annual BBQ/pool party.
NEWS: Why Vanessa Hudgens can't wait for Coachella this year
The Stars: Every year, celebs flock to Coachella to have a blast in the desert. As for who the usual suspects are that we will probably see this year, Vanessa Hudgens has already said she "can't wait for Coachella." Robert Pattinson, Lea Michele, Joe Jonas, Nick Jonas, Paris and Nicky Hilton, Kristen Stewart, Katy Perry, John Legend, Evan Ross, Kellan Lutz, Emma Roberts and Joshua Jackson were just a few of the celebs snapped having a blast at Coachella last year. We wouldn't be surprised if they made a repeat appearance this year too.
The Clothes: What do you wear at Coachella? Definitely something that keeps you cool, considering temps will be in the nineties just about every day. And Boho chic is the annual trendy fashion choice for the fest. We recommend leaving your stilettos behind and opting for a pair of cute sandals to trek around the outdoor fest. Lightweight fabrics, wide-brimmed hats, fringe (on necklaces, bags, etc.), printed airy jumpsuits are just a few of the must-haves for the fest (Check out our full Coachella fashion must-haves guide here.)
PHOTOS: Take a peek at the stars spotted at Coachella last year!
Copyright E! Online