U.S. soldiers stationed in Iraq and Afghanistan believe exposure to around-the-clock trash fires on their military bases has left them with breathing problems and chronic illnesses, even years after returning home.
The Department of Veterans Affairs maintains that exposure to such fumes has not been definitively linked to any long-term health effects. The agency's stance continues to hinder the approval process for veterans hoping to secure medical care from the VA, which operates 1,243 health care facilities across the country. Members of Congress, however, are now pushing to expand health care coverage for veterans by forcing the VA to acknowledge burn pit exposure as a "presumed" service-connected illness.
Soldiers Call Burn Pits the 'Modern Day Agent Orange'
"[Veterans] are either becoming 100 percent disabled or they're dying," said U.S. Rep. Raul Ruiz, D-California. "You have a lot of toxic and carcinogenic chemicals in that smoke that our service members are breathing in."
Ruiz, a medical doctor of 18 years, authored two pieces of legislation and co-authored a third with Rep. Gus Bilirakis, R-Florida, that would guarantee medical care for veterans exposed to burn pits. The efforts aim to label such exposure as an automatic "presumption" of service-connected illness. A similar designation was ultimately put into place for Vietnam veterans who were exposed to the dangerous chemical known as Agent Orange.
"This is our Agent Orange, but they don't care," one local veteran told NBC Bay Area.
He asked his identity not be revealed due to the sensitive nature of his work as an intelligence officer. The Bay Area-based soldier spent a year stationed at Balad military base in Central Iraq, and he now suffers from asthma and pulmonary fibrosis, an incurable lung disease.
He believes exposure to a burn pit while serving in Iraq is the source of his illnesses.
"I was healthy when I came into the Army, and for some reason I have a plethora of medical issues now," he said.
The veteran regularly coughs up blood and recently had a pacemaker put in because of a slow heart rate at just 39 years old. He also suffers from chest pains and frequent breathing problems.
"Slowly, over a period of time, my health just started going downhill." he said.
Burn Pit Usage on U.S. Military Bases Abroad Dates Back Decades
Burn pits date back to the Gulf War in the 1990s and were largely used on U.S. military bases in Iraq and Afghanistan beginning in the early 2000s. Veterans returning from those wars showed increased signs of respiratory problems, including asthma, chronic bronchitis and other lung diseases, according to a study published in the research journal Military Medicine.
VA Believes Burn Pit Exposure Causes 'Temporary' Health Problems
While the VA's own research also found a possible link between chronic health problems and burn pit exposure, the agency maintains that study is not conclusive. As a result, veterans exposed to burn pits are often denied care by the VA.
Congress heavily restricted the use of burn pits a decade ago. At that time, there were more than 270 burn pits at bases in the Middle East, according to a report by the Government Accountability Office. The Department of Defense hired private contractors to manage the burned trash piles. When something needed to be discarded, it was tossed into the flames. Veterans told NBC Bay Area they saw everything from refrigerators to plastics, and even body parts thrown into the fires. The pits burned 24 hours a day.
"You could just taste it. It was like this sickening thing that kind of burned the back of your throat all the time," the Bay Area veteran said. He says he worried about the burn pit exposure while he was stationed in Iraq, but he says any efforts to run his concerns up the chain of command were dismissed.
The Department of Defense now largely uses incinerators at military sites. As a result, only 16 burn pits are currently in use at U.S. bases in the Middle East, according to a spokesperson with U.S. Central Command. While 15 of those burn pits are only allowed to include "non-hazardous waste," such as classified documents, the military is operating one burn pit in Syria for "covered waste," which includes hazardous materials.
"I do believe the military is failing veterans," said Ruiz. "In the United States in the 1970s, they banned the use of open burn pits for a reason. So why would it be okay that we expose Americans in and foreign soil to those same burn pits that we don't allow to be burned here because of their toxic effects?"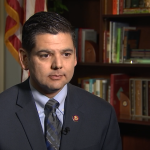 Eligibility for Medical Care Varies Widely for Veterans
Veterans of the Gulf War and the wars in Iraq and Afghanistan are generally eligible for medical care at the VA for at least five years after being discharged, according to information posted on the Department of Veterans Affairs website. Compensation beyond that can be provided based on illnesses or injuries caused or made worse by active military service.
Compensation can include financial support or health care for injuries like severe hearing loss, traumatic brain injury and PTSD. Veterans who believe they are eligible for these benefits can file a claim with the VA. The VA stressed that approved medical coverage is based on individual circumstances on a case-by-case basis.
VA Denied 80 Percent of Medical Claims Related to Burn Pit Exposure
It is unclear how many veterans have been exposed to burn pits. Over the past decade, however, the VA approved just 20 percent of the medical claims related to the flaming piles of garbage. From June 2007 through Nov. 30, 2018, the VA processed 11,581 VA disability compensation claims with at least one condition related to burn pit exposure, according to VA spokesperson Susan Carter. Of those, 2,318 claims were granted.
While the VA's website lists breathing and lung problems among the conditions eligible for disability benefits, it can be difficult for veterans to prove those conditions derive from burn pit exposure. The VA says air pollution in Iraq and Afghanistan may actually pose a "greater danger … than exposure to burn pits." While the VA admits there are toxins in burn pit smoke, the agency says most health effects are "temporary."
"VA looks continually at medical research and follows trends related to medical conditions affecting Veterans," Carter said in a statement.
'In Some People, It Might Be Making Them Sick'
The VA is currently in the process of contracting with the National Academies of Sciences, Engineering and Medicine to review respiratory health effects of airborne hazards in Southwest Asia, according to Carter. The report is scheduled to be released in 2020.
"In some people, it might be making them sick," said Dr. Drew Helmer, director of the VA's War Related Illness and Injury Study Center in New Jersey.
"Who it is making sick, how many people it is making sick, and what is the sickness -- those are still questions we don't have good answers for."
Helmer, who spoke to NBC Philadelphia, said the effort to investigate the potential long-term effects of burn pit exposure is an ongoing process at the VA.
"Even you go back further, we were concerned about Gulf War veterans and their exposure to burning oil well fires, for example," he said. "So it's been a very long process."
The Department of Defense did not answer repeated requests for an interview. The agency still has not released a comprehensive list of what exactly was tossed into each of its military burn pits and when.
"They're trying to skirt away from accountability and responsibility," said Ruiz. "If we don't know what was burned, then we won't be able to identify the health risks in order to outreach to our veterans."
More than a decade after returning from Iraq, the Bay Area veteran says he's still suffering. On his left arm, he now bears a tattoo, showing a skeleton dressed in military garb surrounded by flames and smoke.
"This is me dying -- me dying in the burn pits," he said, pointing to the tattoo. "Honestly, I feel like that is what led to everything that is wrong with me."
______________________________________
Need to contact our Investigative Unit?
• You can remain anonymous
• 1-888-996-TIPS
______________________________________