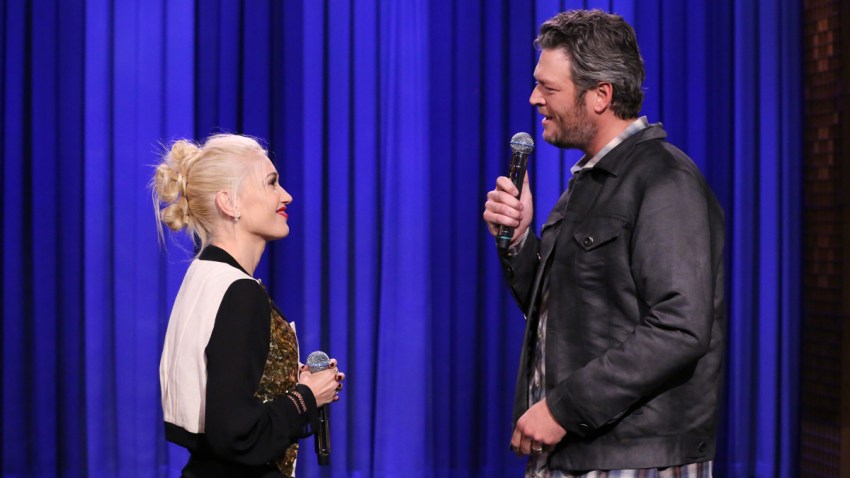 Blake Shelton and Gwen Stefani's romance has been a main attraction when it comes to watching "The Voice" since they came out as a couple. Though they kept things pretty low-key on their debut live show, it seems like these two coaches are now feeling a little more comfortable about showing PDA in front of viewers.
When introducing the coaches to the audience at the top of Monday's show (not seen on TV), Stefani danced in and then ran to Shelton for a hug. The country singer picked her up and swung her around.
You know who might be a little jealous, though? No, not Adam Levine, because he's Shelton's bromance partner for life. But what about some love for Pharrell?
While chatting with E! News' Sibley Scoles, Pharrell called Levine and Shetlon's relationship "hilarious," and Shelton had to step in and get to the root of it all. "Are you jealous? I have a relationship going on with 50 percent of this panel," he bluntly asked. "I am dating 50 percent of this panel."
All Pharrell could say was, "Wow."
Regardless of a possible blossoming relationship between Pharrell and Shelton, the country singer and Stefani's romance continued to overshadow all the love connections throughout Monday's show, especially when a comment from Shelton caused viewers to go on a frenzy on Twitter.
After a singer covered Drake's "Hotline Bling," Shelton remarked, "I don't think there's ever been a more elegant and classy performance of a song about a booty call in the history of music. I mean, that was unbelievable. I hear that song on the radio every day."
Levine was surprised he even know the song, and Shelton replied back, "Gwen sang it to me on 'The Tonight Show,'" which caused his co-stars and host Carson Daly to get a little flustered.
But nothing compared to the reaction of fans on Twitter:
As for tonight's show, "The Voice" proved that it could go any way.
The live performances only seem to be getting stronger, however there's one name that's on everyone's mind. Jordan Smith, the Kentucky singer who wowed the coaches so much during the blind auditions that Levine called him "the most important person who's ever been on this show," was named the clear frontrunner by his opponents.
So how did Smith do Monday? Amazing, per usual. Smith ditched the background band and went solo on the keys while performing the gospel hymn "Great Is Thy Faithfulness," which resulted in a standing ovation and a hug from Levine. Referencing the Paris attacks from this weekend, both Levine and Shelton thanked Smith for giving such a powerful performance.
"Coming off the weekend and the horrible things that happened over in Paris and having a heavy heart the last few days, thank you for that. That was beautiful," Shelton told Smith. Levine added, "Sometimes there's so much that's so confusing and so sad, and then you come along and make us feel like there's a lot of hope. ...I thank you as well. Thank you, Jordan."
But was it enough to stay in the game? Find out Tuesday night during eliminations.
--Reporting by Lindsey Caldwell
(E! Online and NBC are both part of the NBCUniversal family.)
PHOTOS: Blake and Gwen photographed for the first time as an official couple
MORE: What does Christina Aguilera think of Blake Shelton and Gwen Stefani's romance?
Copyright E! Online