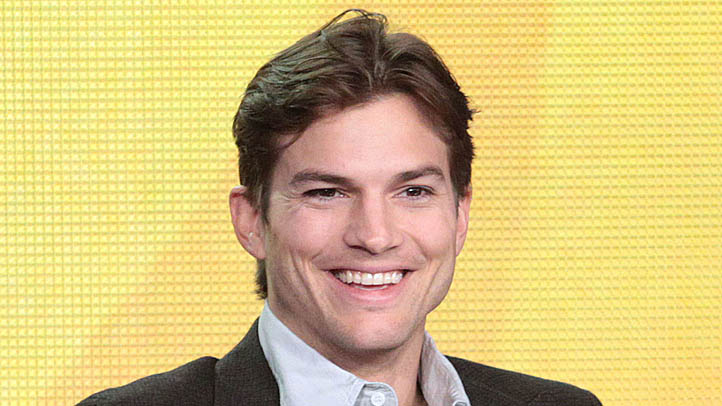 Okay, so we weren't going to get Ashton Kutcher to talk about THAT, but how about a little insight on where the "Two and a Half Men" star, his new non-shaggy style and his involvement in social media at the moment?
On losing the long hair and beard that was initially Walden Schmidt's signature look:
"When I'm not working on something specifically, I tend to just kind of let it be a growing field because you never know what you're going to play and I'd prefer not to wear a wig or any prosthetic or any fake whatever. So I think when we first met, I was starting to get a little shaggy and we just kind of kept it. I'm sure there will be people now that I've cut my hair and shaved my beard they want me to have long hair and a beard. And there were people that when I had a beard and long hair wanted me to be shaved and have a haircut. How it evolved is these guys wrote a screenplay that dictated that I cut my hair and shave my beard at some point. So watch on Monday. It's a really good show."
On following his fan's reaction to his "Men" stint thus far:
"In general my feedback has been really positive. And I think that part of listening to the audience in that way, in a slightly more personal way, I think, has helped us – or helped me at least – in kind of guiding the character into what it is that the audience is interested in watching."
On his experience returning to television:
"I've had a blast. Since I stop doing the '70s Show,' I always wanted to go back and do television. And I remember when I was working on that show, Robin Williams visiting the set at one point in time. He was visiting with Kurtwood Smith, who played the father of the show, and said to Kurtwood at that time, like, 'Man, I just wish I could go back and do a sitcom again.' And I never forgot hearing that. And when I had this opportunity, I was like, 'This is unbelievable.'"
On whether he'll return when his yearlong contract is up, given the success of the show:
"The deal that we structured for the show was kind of a test: 'Can we get the show up? Can we get it going?' The show is outperforming the numbers from before I was here, and so I think that people are responding to it. And for me, having a show that people like and people want more of, that will dictate my decision. I have a couple features I think I'm going to do in the summer during the hiatus, and right now I'm looking at it as a hiatus because I'm having a lot of fun doing the show and working with these guys, and would be interested in coming back if we can work that out."
On comparing and contrasting Walden and "That '70s Show's" Kelso:
"I think that they're very different characters. I think that there's probably, like, a child-like quality that we intentionally brought to the character, in an effort to sort of soften the guy a little bit – and plus he was going through this sort of brokenhearted phase. I think Walden is probably far less of a ladies' man, per se, than Kelso was. I think he's probably a little bit quicker, smarter, brighter. And I think as the character evolves, I think it will probably get further and further away from that same sensibility. That being said, I'm sure I have my own comedic tone and delivery that I've learned over the years, and I'm sure that there's some similarities in the way that I deliver comedy and it's probably that overtone that people are connecting to the most."
On using his tech-savvy techniques to stay connected with the show's fans:
"We've been connected through the CBS 'Two and a Half Men' social network they currently have built. We're always hashtagging 'Two and a Half Men' tweets so it's all fully searchable. There's great conversation that actually takes place during the show. I did a thing on Tinychat where I did a live chat during the show with the audience of the show. So we actually watched it on the West Coast feed live with the audience. I did an "inside the show" almost like director's commentary during the show, as it was going on, explaining what was happening. It was pretty cool."
On lessons learned about Twittering after his recent public misstep commenting on Joe Paterno's firing:
"I think the biggest thing is it's a real time service, so the impulse is to stay ahead of the curve and be ahead of the curve and know what's going on. I just take that extra pause now before I put something out and make sure that I'm fully educated on what I'm talking about and not get that impulse feedback, which I think is the biggest thing. Which is a really great lesson for life, too, just taking that pause before you do and act, and being sure what you're doing is what you want to be doing."
On knowing when to trust his own instincts over social media feedback:
"If you believe the good stuff that people say, then you have to believe the bad stuff, and then you allow yourself to be on a roller coaster of what other people think. So I think you try to find the good in the bad and the bad in the good and balance yourself and stay on an even keel."