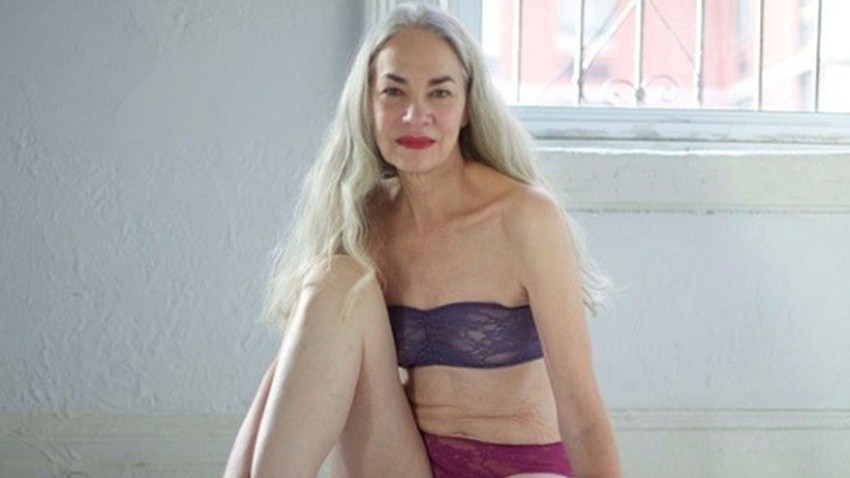 We hope we look this good when we hit 60.
Meet Jacky O'Shaughnessy. First of all, congrats on your name. That is a dope name. Anyway.
She's been modeling for American Apparel since 2011, and she is 62 years old. The clothing company has used her in ads to promote their new lines before, but she was always fully clothed. That's pretty cool in itself, as we all know most clothing companies want bright, shiny young folks looking bored while modeling their clothes. But AA wanted the beautiful Jacky, who is a touch over the median modeling age. (Obviously by "a touch over" we mean many, many years becuase most working models are in their teens/early 20s).
READ: We Ranked Every Single Commercial From the 2014 Super Bowl
Well, now the Los Angeles-based company is shaking things up some more.
American Apparel just released some shots for their new lingerie line, which features Jacky wearing nothing but a bandeau bra and high-waist underwear. And she looks amazing.
How does she get her hair to look that lush and flowing? And look at those legs! But for hipster's sake, please no one start a campaign to find the un-photoshopped version of this pic. Just... just let this be. Jacky, you look so wonderful and we hope we look like that in our undergarments when we are your age.
PHOTOS: Celeb Abercrombie & Fitch models
Photo: American Apparel
Copyright E! Online