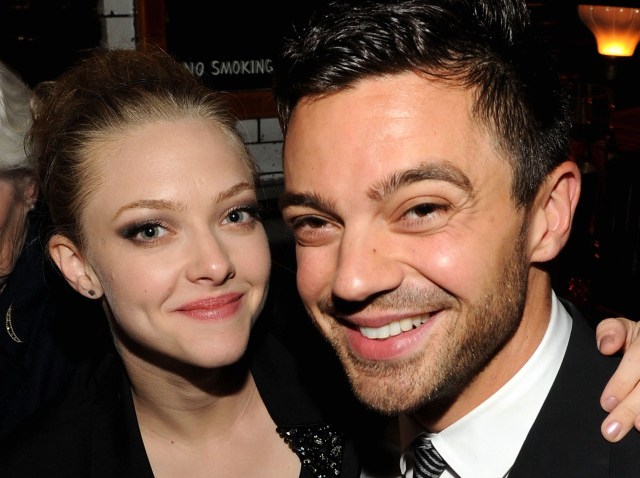 Amanda Seyfried and Dominic Cooper are reportedly taking some time off from their relationship.
According to People, the couple is currently not dating, but they possibly haven't called it quits for good.
VIEW THE PHOTOS: They Dated Who?!? Surprising Former Couples!
"Amanda and Dominic have been on and off for a while – and right now they're taking a break," a source told People. "But they're great friends and could still get back together."
The mag reported that Dominic was seen spending time with Amanda's "Mean Girls" co-star, Lindsay Lohan, while in Cannes this past week. He even reportedly had his arm around LiLo's waist.
VIEW THE PHOTOS: Amanda Seyfried
As previously reported on AccessHollywood.com, the 24-year-old actress told InStyle Hair in this month's issue that distance was hard on her relationship with the 31-year-old British actor, explaining that they resorted to Web cams and a lot of time in the air in order to see each other.
"There's nothing easy about it," she told the mag of their three-year relationship. "We get on airplanes. You have to be willing to get on one, plain and simple."
The duo met while filming 2008's "Mamma Mia!"
VIEW THE PHOTOS: Hollywood's Smokin' Hot Couples
When contacted by Access Hollywood, a rep for Amanda was not immediately available for comment.
Copyright 2010 by NBC Universal, Inc. All rights reserved.
This material may not be published, broadcast, rewritten or redistributed.
VIEW THE PHOTOS: Divorce! Break-Ups! Hollywood's Most Famous Former Couples
Related Content from AccessHollywood.com:
PLAY IT NOW: Amanda Seyfried & Julianne Moore On Their Racy Sex Scene In 'Chloe'
PLAY IT NOW: Hollywood Radar: May 12, 2010
More from Access: [ Amanda Seyfried Lindsay Lohan Movies ]
Copyright NBCAH - Access Hollywood