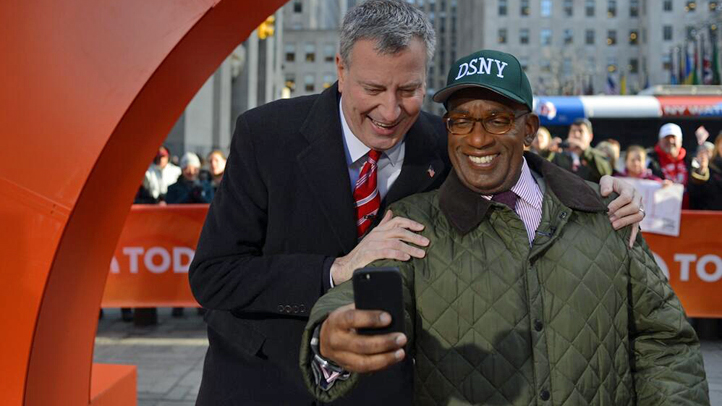 Al Roker and Mayor de Blasio shook hands Monday on NBC's "Today" show after the weatherman recently criticized the mayor for keeping public schools open during a snowstorm.
De Blasio appeared on the morning show to cut the ribbon for a new set in Rockefeller Plaza. Afterward, he gave Roker a city Sanitation Department hat and offered to let him help plow the roads for the next snowstorm.
"I think together letting people know what's going on with the weather, letting people know how to be safe, that's something we can do together," de Blasio said.
Roker blasted the mayor and the city Feb. 13 for keeping schools open amid a nor'easter that dumped several inches of snow. Roker also forecast "one term" for de Blasio, but apologized on "Today" the following morning.
On Monday, Roker said he'd love to help the city's plow drivers clear the roads for the next snowfall, expected this week.
"My father was a bus driver and he used to drive a snow-clearing bus, so I'd love to do it," Roker said.
After they went off air, the two sealed the end of their feud by taking a selfie, and de Blasio tweeted a photo of them taking it.
Copyright AP - Associated Press