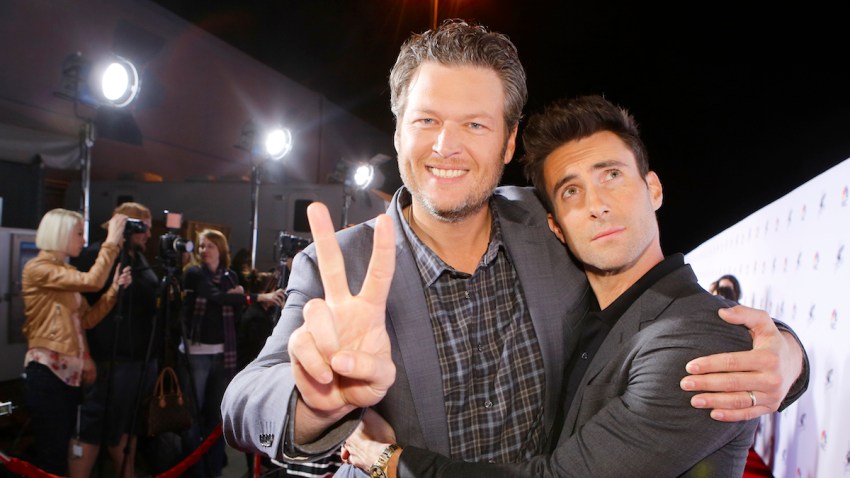 Adam Levine proved that his bromance with Blake Shelton is stronger than ever when he paid his "Voice" co-coach a compliment Monday. The Maroon 5 frontman, and former Sexiest Man Alive title-holder, told E! News' Sibley Scoles that his bestie deserves to snag that People cover one day.
"Listen, as far as I'm concerned, he is the Sexiest Man Alive. People magazine doesn't know all. They don't know the Blake I know. If they did, he'd be on the cover," he told us.
"I think he's going to get it someday. I just think you've got to work hard at it like I did," Levine laughed. "Just don't get down. I know that it's his No. 1 priority in life, so as long as he keeps working hard and being sexy-ish, like he kinda is with his thing, I think they're going to come to him. They're going to call him one day and be like, 'Blake, you're welcome. Here it is. You are now the Sexiest Man Alive. Country or no country. This is your country.'"
Aside from the strong bond between Levine and Shelton, "Voice" viewers had their fair share of emotion from Monday's showcase.
One of the night's biggest performances came from Team Gwen, as Jeffery Austin closed the night with a powerful version of Robyn's "Dancing On My Own" that brought his coach to tears. Meanwhile, Levine scored with Amy Vachal's jangly, folk-y version of Taylor Swift's "Blank Space" that should definitely earn a tweet of approval from the singer/songwriter/pop goddess herself.
Other standout performances came from Shelton's Emily Ann Roberts, whose bluegrass version of the Judds' "Why Not Me" had the crowd dancing (and her coach hollering), and Pharrell Williams' Madi Davis, whose cover of U2's "Love Is Blindness" brought her dad to tears and prompted Shelton to declare it the "best performance of the night so far."
Find out who made "The Voice's" Top 10 when the live eliminations air Tuesday, Nov. 24 at 8 p.m. on NBC.
APP: Download the E! Online app to get the latest celebrity news on the go
(E! and NBC are part of the NBCUniversal family)
PHOTOS: Memorable musical moments from "The Voice"
Copyright E! Online