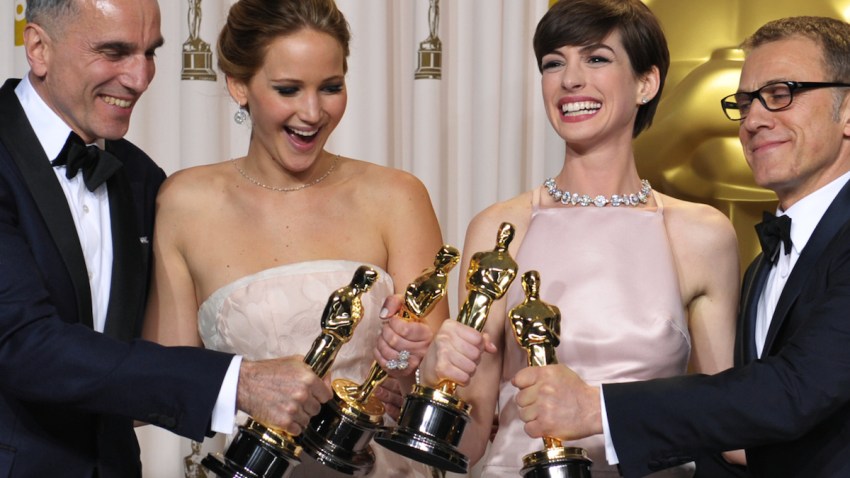 After hearing their names called for winning an Oscar, it boils down to one thing for actors: Thanking those who got them up there, from directors, producers to their parents, and, of course, people who inspired them.
Ahead of Sunday's Academy Awards ceremony, Vocativ.com trawled through the 1,396 acceptance speeches currently archived on the Academy's website to discover the top 10 most name-checked entities when it comes to Oscar "thank yous."
And if your first thought is that God comes in at the number one spot, think again.
Steven Spielberg, co-founder of DreamWorks Studios and director of classics "Jaws," "Raiders of the Lost Ark," "Lincoln" and "Saving Private Ryan" holds the honor of being thanked more than any other person with 42 mentions. Not only from talents in his movies, Spielberg has been credited by those he inspired such as Sam Mendes, who won the best director Academy Award in 2000 for "American Beauty."
The Academy itself gets recognized in 43 percent of all speeches, while Mom and Dad are credited 28 percent of the time, according to Vocativ.
Coming in at the number two spot is Harvey Weinstein, co-chairman of The Weinstein Company, who won a best picture Oscar for "Shakespeare in Love" and produced multiple films featuring winning performances, such as "Inglorious Basterds," "The King's Speech" and "Chicago."
In third place is "Titanic" and "Avatar" director/producer James Cameron, who has been recognized 28 times. George Lucas ("Star Wars") and Peter Jackson ("The Lord of the Rings" and "Hobbit" trilogies) are in fourth and fifth place respectively.
The Almighty came in sixth place, followed by Fran Walsh, a three-time Oscar winner, who wrote the screenplays for all of the "LOTR" and "Hobbit" movies. Walsh is the only woman to make the the top 10 list.
In the final four slots are Francis Ford Coppola ("Apocalypse Now," "The Godfather"), Martin Scorsese ("Raging Bull," "Taxi Driver"), "LOTR" producer Barrie Osborne and producer Saul Zaentz ("Amadeus," "One Flew Over the Cuckoo's Nest" and "The English Patient").