For most, Frosty the Snowman is a jolly happy soul. But for President Barack Obama, the snow sculpture gives him the willies.
In an interview with People magazine earlier this month, the commander-in-chief revealed that the army of snowmen decorating the White House are "a little creepy."
"There's a whole kind of Chucky element to them," he said, referencing the killer doll that comes to life in the "Child's Play" horror films.
The first lady teased her husband, suggesting "we should put one in the bedroom, right by his bed."
"I would move," the president joked. "If I see one of those snowmen in my bedroom, I'm moving."
'Tonight': Slow Jam the News With Obama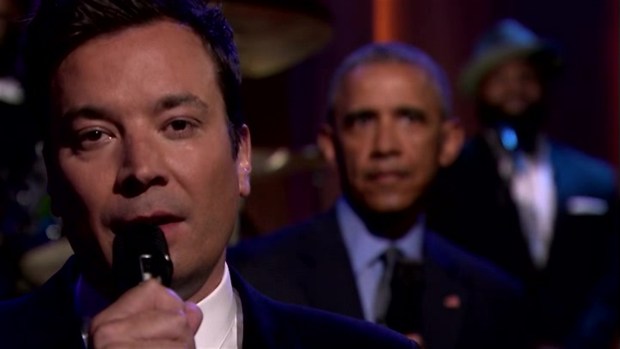 The White House staff decided to use the president's admission against him and set off to prank Obama with the help of a family of snowmen parked in the Rose Garden near the Oval Office.
Pete Souza, the White House's official photographer, explained in an Instagram post that, for the last three weeks, staffers have been thinking about moving the snowmen closer to the house.
"We've been joking that we should move the snowmen a few feet closer to the Oval Office every day to see if anyone noticed," Souza wrote. "Then, we realized the snowmen were too heavy to easily lift."
But this week, they finally pulled off the prank, moving all the snowmen right up to the president's office windows. Souza captured a photo of one of the snowmen creepily peering through while Obama signed end-of-year bills.
Thankfully, according to Souza, the president was amused with the joke. He even played along in a follow-up post, acting scared to see a snowman outside another window.
The question now is, Mr. President, "Do you you want to build a snowman?"