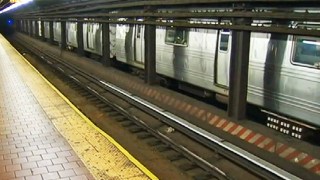 A New York subway worker survived electrocution on the third rail — thanks to a co-worker performing CPR to the beat of "Stayin' Alive."
Monique Brathwaite told the Daily News she remembers nothing about her fall onto the deadly rail that powers trains.
The 35-year-old mother of four was hospitalized after Friday's accident in a Harlem tunnel during maintenance work. She later learned that co-worker David Martinez rushed to her side to do life-saving chest compressions.
He says he suddenly remembered reading that the rhythm of the Bee Gees' disco hit song was perfect for CPR — 103 beats per minute.
Though she's badly burned and will need skin grafts, she stayed alive.
She calls Martinez her hero.