The National Weather Service confirmed a tornado touched down in Dallas on Sunday night, causing structural damage and knocking out electricity to thousands.
Radar confirmed the twister hit the ground near Love Field and moved northeast through the city. Several homes and businesses were damaged, power lines downed and tree limbs were scattered across roadways.
There were no reports of fatalities or serious injuries as of 12:20 a.m. Monday, according to a release from the city of Dallas. Dallas Fire-Rescue spokesman Jason Evans said three people were hospitalized with injuries that were not considered life-threatening.
Richardson Police Going Door-to-Door After Severe Storms
NBC 5 received dozens of photos and videos from viewers during the storms, including many showing tornadoes suddenly appearing when backlit by lightning. Several of the videos can be seen here.
@DallasFireRes_q#Station41 sustained significant damage during the last night's/this morning's storms. Thankfully no injuries to any of the firefighters inside. @CityOfDallas@DallasOEM@DallasPDpic.twitter.com/mc6KPPux8Y

— DALLAS FIRE-RESCUE (@DallasFireRes_q) October 21, 2019
Among the buildings destroyed in the tornado was DFR station 41, where the roof and other parts of the building were removed by high winds. None of the firefighters inside the station at the time were injured, Evans said.
Firefighters Break Out Chain Saws to Help Richardson Residents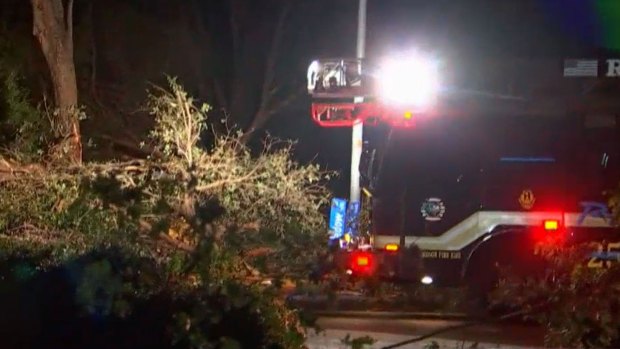 Motel Collapses in Dallas, No Injuries Reported
Your Weather Photos: Sunday, Oct. 20, 2019
Storm Damage in Dallas Neighborhood
By the time the sun comes up Monday morning, the storms will be well east and south of the North Texas.
The front will also bring cooler weather back to North Texas early in the week. The wind will settle down by Monday evening.
Latest Video Forecast
Read the latest forecast information from NBC 5's team of Weather Experts here.
Before the Storm
Stay Connected. Download the NBC DFW App
Charge your phones and tablets so that if you lose power you can still watch live weather coverage in the App.
Weather Safety