This weekend kitchens across North Texas will be bustling with activity ahead of Super Bowl Sunday watch parties.
And for some, that means becoming a full-on "pothead."
Before you go there, you should know that's the term popping up in Facebook community groups for fans of the Instant Pot — which is hyped up to be something of a cooking miracle for the casual chef in need of a quick meal.
And thankfully, our NBC 5 viewers came through with Instant Pot recipes that are perfect for your last-minute Super Bowl cook off.
We tried them, each with varying levels of success.
Instant Pot Buffalo Ranch Chicken Dip
Local
The latest news from around North Texas.
Ingredients
• 1 pound chicken breast
• 1 packet ranch dip
• 1 cup hot sauce
• 1 stick butter
• 16 oz cheddar cheese
• 8 oz cream cheese
Was it good? Two thumbs up from Deborah.
Easy Instant Pot Chicken Tacos
Source: Marc Fein
Ingredients
• 1 pkg raw chicken
• 1 pkg taco seasoning
• 1 jar salsa
Combine it all together, seal the pot and cook on high pressure for 13 minutes.
Was it good? Definitely.
Instant Pot Spaghetti
Source: Samantha Davies
Ingredients
• 1 pound lean ground beef
• ½ teaspoon each of salt, garlic powder, onion powder, Italian seasoning
• Noodles
• 1 jar of spaghetti sauce
• 1½ spaghetti sauce jar filled with water
• 1 can of diced tomatoes
Saute the ground beef with spices until cooked. Drain excess grease if necessary. Break the spaghetti in half and place on top of meat in the Instant Pot. Pour the sauce, diced tomatoes and water in the pot, making sure spaghetti is completely covered in liquid. Seal the Instant Pot and cook on high pressure for eight minutes. Use quick release before opening.
Result? Some of the noodles were a bit firm, but overall it was tasty!
Chamberlain's Steakhouse Prime Beef and Bison Meatballs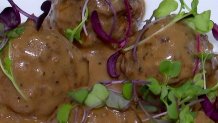 Source: Chef Richard Chamberlain
Serves 6
• 1 lb. ground beef (80/20)
• ½ lb. ground bison
• ½ seasoned bread crumbs
• ½ cup minced onions
• 1 egg
• ½ teaspoon smoked paprika
• 1 teaspoon chopped fresh tarragon
• 2 tablespoon olive oil
• 2 cups beef broth
• Salt and fresh ground pepper

In a bowl combine beef, bison, breadcrumbs, onion, tarragon, smoked paprika, egg and season with salt and pepper.
Mix well and form into golf ball size meatballs. Heat olive oil in sauté pan over medium high heat. Add meatballs and brown on all sides. Place meatballs in instant pot with broth. Steam for 5 minutes. remove and top with your favorite steak sauce or tomato sauce. Serve.
Chamberlain's Bacon and Lobster Deviled Eggs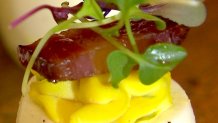 Source: Chef Richard Chamberlain
Serves 6
• 12 large eggs
• ½ cup mayonnaise
• 2 teaspoons rice wine vinegar
• 2 teaspoons Dijon mustard
• Salt and fresh ground pepper
• Smoked paprika
• 4 slices Applewood smoked bacon (cut into ¼ inch slices and cooked brown)
• 1 lobster tail (steamed and diced into ¼ inch pieces)

Place raw eggs in instant pot with ¾ cup water. Steam for five minutes. place eggs in cold water and peel. With a knife, remove 1/8 inch from top and bottom of egg. scoop out yolk and place in bowl with mayonnaise, Dijon, vinegar, dash of paprika and season with salt and pepper. Place filling in a pastry bag and pipe into eggs. Top with bacon and lobster and serve.
Instant Pot Chicken Cacciatore
Source: Skinnytaste.com
• 4 chicken thighs, with the bone, skin removed
• Kosher salt and fresh pepper to taste
• Olive oil spray
• ½ can (14 oz) crushed tomatoes (Tuttorosso my favorite!)
• ½ cup diced onion
• ¼ cup diced red bell pepper
• ½ cup diced green bell pepper
• ½ teaspoon dried oregano
• 1 bay leaf
• 2 tablespoons chopped basil or parsley for topping
Perfect Pressure Cooker Cheesecake
Source: Pressure Cooking Today
• 1 cup graham cracker cookie crumbs
• 2 tablespoons butter melted
FILLING
• 16 ounces cream cheese, room temperature
• ½ cup sugar
• ½ teaspoon vanilla extract
• 2 eggs, room temperature