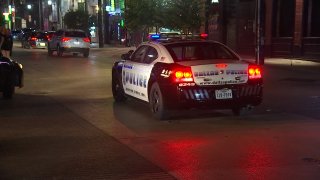 A woman was killed and a man was hospitalized after a shooting outside of a shopping center in Northeast Dallas on Saturday, police say.
The shooting appeared to have occurred happened in the parking lot of a sporting goods store in the 6300 block of E. Northwest Highway, Dallas police said.
Police said the man and woman were confronted by another man, who shot them both multiple times.
The woman was pronounced dead at the scene and the man was taken to a local hospital in critical condition, police said.
The woman's identity was not immediately available Saturday.
It was not clear if an arrest was made Saturday night.
According to Dallas police, though the shooting took place in the shopping center parking lot, officers have not confirmed what stores the couple visited or came out of.