A woman is in custody and facing a capital murder charge after Richardson police say she fatally shot her child's paternal grandmother during a custody dispute at a coffee shop Monday night.
Richardson Police said officers were called to a shooting at the Starbucks on the 4100 block of Renner Road at about 7:10 p.m. by witnesses who reported seeing a woman firing a gun multiple times at another woman.
Police said the first officer arrived to find a woman attempting to leave the coffee shop with a 3-year-old child.
The woman, identified by police as 23-year-old Tranisa Octavin Trana Watts, was taken into custody as additional officers arrived at the scene and began providing medical care to the victim, identified by police as 52-year-old Kentoria Nicole Edwards.
The child, police said, was unharmed.
"Watts requested to see her child and Edwards agreed they could meet at the location. During the visit, Watts pulled out a handgun and shot Edwards and attempted to leave with the child," police said in a statement Tuesday morning.
Edwards was transported to an area hospital where she later died. NBC 5 confirmed Tuesday that Edwards was the paternal grandmother of Watts' child and had full custody.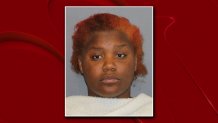 Edwards' neighbor told NBC 5 Tuesday afternoon that she believes she saw Watts outside of the victim's house earlier in the day and asked if they knew the people who lived at the home because they weren't coming to the door.
Lori Johnson, of Richardson, said she is sure she came face to face with the now-accused murderer near the victim's house about two hours before the shooting.
She said she saw a woman matching Watts' mugshot being dropped off by someone in a vehicle near the entrance to their neighborhood and walking down the street.
The stranger appeared 'eager' to get ahold of the people in the victim's residence, said Johnson.
"She asked me if I knew the people in the home. I just said: 'No, I just see people in the garage. Maybe they can't hear you,'" said Johnson. "I didn't think anything about it and then, later on, I heard what happened. Everyone was asking me if I heard what happened right behind my house and I was like: 'No, I don't know anything.' And then it started hitting me like: Wait a minute, I actually talked to her before she did it."
Johnson feels guilty she did not pay closer attention or perhaps report the incident.
"Now I'm wondering who dropped her off," she said. "Just very bizarre, very scary. I was out with my grandson later on that evening, not even knowing what was going on so I'm just kind of nervous about everything right now."
Watts is being held in the Richardson City Jail on a charge of capital murder on a bond of $1 million. It's not clear if she's obtained an attorney.
This is the first murder reported in Richardson this year. Anyone with information about the case is asked to contact the Richardson Police Department at 972-744-4800.
Edwards' family has started a GoFundMe to help cover the unexpected expenses associated with her funeral and memorial. To contribute, click here.