A Wolfe City police officer is on administrative leave after a shooting Saturday, according to the city.
No official details have been released about the shooting or what led to it.
The city said Sunday that the officer was placed on leave pending an investigation by the Texas Rangers.
In a statement, the Rangers said the Wolfe City Police Department requested that the agency investigate the shooting.
Lee Merritt, who has said he is a spokesman for the family, identified the man who was shot as Jonathan Price and released a photo of him. The incident unfolded outside of a gas station along Sante Fe Drive, according to Merritt.
"What people are saying now is that Mr. Price was breaking up a fight when law enforcement showed up," Merritt said. "He [Price] was wrongfully targeted by law enforcement eventually tased, eventually shot. It all took place in a matter of moments."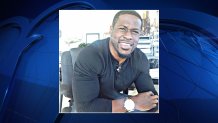 Since the shooting, a GoFundMe set up for the family has raised more than $35,000.
Local
The latest news from around North Texas.
"Everyone who knew Mr. Price, that whole community…he's a hometown hero. A standout athlete," Merritt said. "People from all over the country have reached out to say that this is not the kind of person to escalate a situation with law enforcement. They're trying to figure out how this happened."
Steve Steele lives near the gas station on Sante Fe. Describing the city of Wolfe City as a place were "everyone knows everyone", Steele said he and his wife heard commotion Saturday but initially unsure of what it was.
"When I stepped outside a friend of mine had pulled up in his truck and he said 'hey, there's something going on at the gas station'," recalled Steele. "A lady had come up and said, 'Jonathan Price had been shot'. We walked up there, a friend was already up there trying to calm people down. I saw them working on him and everything."
A candlelight vigil in memory of Price has been set for Monday evening, Merritt confirmed.
No additional details was available Sunday afternoon, and the Wolfe City Police Department has not responded to requests for information.
Wolfe City is in Hunt County, north of Greenville.