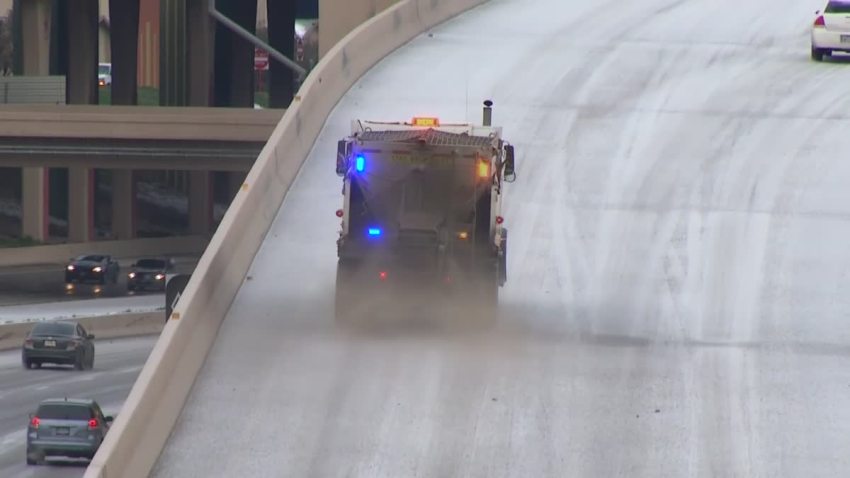 Below freezing temperatures accompanied by sleet and ice put drivers and North Texas road crews through another test Sunday night and Monday morning.

Taxi driver Seyfe Mengente said he appreciated road crews for their work because his customers expect him to keep driving in all kinds of weather.

"Some people, they park their car and call the driver," Mengente said. "They don't want to drive."

The City of Dallas emergency street clearing budget is now straining after the sixth cold snap this winter season. The city said supplies of sand and ice melting products around the area are holding up despite depleting funds.
Interim Dallas Street Services Director Dennis Ware said his workers have nearly exhausted the $300,000 overtime budget allocated for emergency street clearing for the entire fiscal year ending Sept. 30. The concern is that spring storms are still ahead.

"We are up against it for the year," Ware said.

In some past years ice-treating materials ran low at the end of the season.

"That would be really bad, if we had another ice storm and we had no sand for it," driver Jessica Winegarner said.

Highway workers routinely apply those materials to bridges and overpasses in an ice storm.

But Texas Department of Transportation spokesman Ryan LaFontaine said extra material was used Sunday night to treat icy surfaces along several freeways, including US Highway 75/Central Expressway and Interstate 635/ LBJ Freeway.

"Because this thing came in so quickly, we did begin to treat some of the main lanes," LaFontaine said.

Seyfe Mengente noticed the results.

"It helps a lot," he said.

Officials with TxDOT, The City of Dallas and The North Texas Tollway Authority all said they still have additional supplies of ice-busting materials available.

"We still have about half of our materials left that we started the year with so we feel confident we certainly have enough," LaFontaine said.

Here are the TxDOTT Dallas District numbers:

TX DOT Dallas started the 2013-2014 season with:
• Salt—288,550 pounds
• Liquid salt-based de-icer—46,380 gallons
• Sand—30,406 cubic yards

Used so far for 2013-2014:
• Salt—140,000 pounds
• Liquid salt-based de-icer—12,002 gallons
• Sand—7,342 cubic yards

Michael Rey with NTTA said that agency used 550 tons of MD20 ice melting compound and 50 tons of salt since Sunday and still has more since it ordered additional supplies after February ice treatments.

"We still have trucks loaded and are patrolling the roadways looking for isolated icy spots." Rey said.

Now, drivers have noticed debris causing problems after ice melts.

Tref Hodge stopped along the Central Expressway in Dallas to clean his windshield.

"The roads aren't as bad, but there's a lot of sand and debris now," Hodge said.

Road money and manpower will also be used on cleaning up the sand and salt as drivers wash their cars.

All of the highway people hope they don't need to use their winter road material again this year and drivers agree.

"I hope we don't have another ice storm," said driver Thadeus Iwuji. "But it's good that they are prepared."