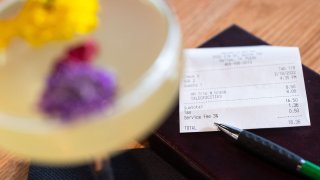 Detail-oriented Dallas diners might have noticed something peculiar at the bottom of some restaurant receipts lately: What's this extra "service charge" fee?
It's a tactic some restaurants use to collect a little more cash during a prolonged coronavirus pandemic when food prices and labor costs are skyrocketing.
Service fees are often given to untipped kitchen workers, which in turn offers an incentive for cooks who wouldn't ordinarily make more than an hourly wage. Restaurant operators can implement them however they want to — if they choose to at all. In Dallas, we're seeing service fees of 3% to 10% added to the bill, not including the tip.
To read the full story, click here to visit our partners at the Dallas Morning News