A Heat Advisory has been issued for parts of North Texas starting at 1 p.m. Thursday through 8 p.m. Saturday.
A Heat Advisory is issued when the heat index is at or above 105 degrees for two or more consecutive days. It can also be issued with the air temperature reaches 103 degrees or more for at least 2 consecutive days.

This extreme heat can be very dangerous. People or pets without a place to keep cool or have enough water can easily suffer from heat related illnesses. Never leave children or pets in a vehicle. The temperature can reach life-threatening levels quickly.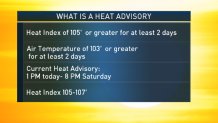 If you work outside, prepare for the heat. Try to do activities early in the morning, wear light weight and loose fitting clothing and drink plenty of water.
Even though the heat advisory expires Saturday evening it does not mean it will cool down. Our hot and humid weather pattern will stick with us through next week.