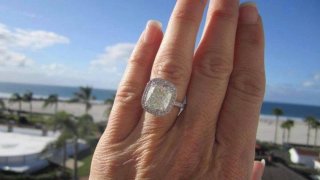 A Westlake woman needs help finding her six-carat diamond wedding ring that she believes she may have lost Monday.
The woman said she took her rings and earrings off and placed them in her purse when she went for a massage near Southlake Town Square.
At some point between the trips to the spa, a cookie shop and home, her jewelry went missing.
When she checked her purse the next day, she found only one of the one-carat diamond studs and no rings.
The wedding ring is worth an estimated $101,700 and the diamond stud is valued at about $13,000, according to a Southlake police case report that has classified the losses as theft. She also couldn't find her diamond wedding band, which is valued at about $2,000, the report stated.
The woman said that the items are sentimental and the loss is devastating.
Anyone with information about the jewelry may call the Southlake Police Department at 817-748-8114.