Police have made an arrest in the murder of an elderly man who was found dead inside his Pleasant Grove home over the weekend.[[489463071, R]]
Officers responded to a welfare check at the home of 85-year-old Edward Sebastian in the 8900 block of Craige Drive at about 1:30 Saturday afternoon.
Police said Sebastian appeared to have died from homicidal violence.
On Monday, David Lee Rickerson, 40, was arrested in relation to the murder, according to police.
According to the affidavit for arrest warrant, a man considered a witness came forward on Saturday and told police Rickerson admitted to killing Sebastian and asked the man if he would "help him move the body."
Rickerson also allegedly asked the man if he would cash a check that was made in the name of the victim.
The man kept the check and turned it over to detectives.
Local
The latest news from around North Texas.
Rickerson reportedly drove around in the victim's pickup truck for several days.
On Saturday, the same day Sebastian's body was found inside his house, Rickerson was involved in a crash.
He reportedly told police "that he stole the black Tundra he was driving when he crashed."
The witness told police that he and Rickerson had been going back and forth to the victim's house, loading up lawn equipment and taking the equipment to pawn shops and eventually selling the items to random lawn crews in the area.
Rickerson faces a capital murder charge.
Meanwhile, residents in the victim's neighborhood have placed a memorial in front of Sebastian's house.
There are flowers and a cross that reads "RIP Mr. Ed."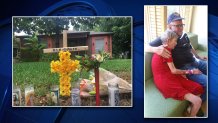 That is how Sebastian was known in the neighborhood where he lived for several decades, according to neighbors.
James Newell said he called 911 Saturday afternoon when Sebastian wasn't coming to the door and he noticed an odor coming from the house.
Newell said he is shocked someone would hurt his neighbor and friend because Sebastian would help anyone who needed it.
"Everybody's going to miss him. He'd drive up and down the street and talk to everybody," Newell said. "He's going to be missed."
"I still don't believe it," Alexis Oliveros said.
She and other employees at the nearby Griff's Hamburgers say they are especially heartbroken over the loss of their loyal customer.
Sebastian would eat at the burger joint at least once a day, to the point where as soon as they saw him drive up they started to get his usual request ready.
One worker who left flowers and said a prayer at a memorial called Sebastian "a ray of sunshine," who was nice to every person he encountered.
Sebastian's son said his father was a Dallas police officer in the 1950s and 60s.
He adds that Sebastian's daughter died of cancer last week.
Anyone with information related to the homicide is asked to call 214-671-3647 or email scott.sayers@dallascityhall.com.