A 46-year-old man has been arrested in connection with sex abuse cases of young children dating back 35 years, Irving police say.
Arron Von Blackwolf was arrested and being held in the Dallas County jail on two counts of continuous sexual abuse of a child under 14 and one count of continuous trafficking of persons, according to jail records.
He also faces additional charges, including possession of child pornography, which are being filed, police said.
Irving police Officer Robert Reeves said the initial investigation into Blackwolf, who was known as "Wolf" or Jimmy Robert "Bobby" Kelly III, began in April, Reeves said.
Police said the cases involving Blackwolf, date back to at least 1986.
At least five of the victims were in the Irving area, but Blackwolf is suspected in more than two dozen cases of sexual abuse or grooming across the country.
He met victims in Virginia, Washington and Texas through personal and professional interactions, Reeves said.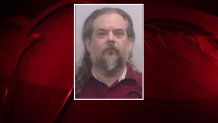 Reeves described a "path of breadcrumbs that have been left with previous victims ... across the country" that detectives uncovered after someone came forward to police.
Local
The latest news from around North Texas.
Police reached out to the minor victim, and a child forensic psychologist met with the victim, which provided more evidence for the investigation, Reeves said.
During the investigation, detectives found evidence that Blackwolf had reportedly sexually assaulted or had inappropriate contact with other children, and are working to identify those people, police said.
Police are trying to reach anyone who may have been a victim of Blackwolf's to "get them justice" and help piece together more of the story, Reeves said. They are asked to call Detective King at 972-721-2548 or email kking@cityofirving.org.
Blackwolf was being held in the Dallas County jail with bail set at $225,000, according to jail records.