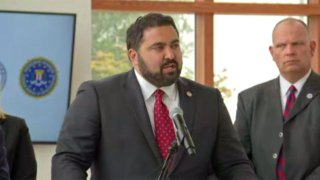 Officials with the U.S. Attorney's Office Eastern District of Texas and officials with federal law enforcement agencies met Tuesday with Republic of Panama Attorney General Javier Caraballo to discuss ways to curtail drug trafficking between the two countries.
Acting U.S. Attorney Nicholas J. Ganjei said the Panamanian government is working with federal officials with the FBI, DEA, HSI, and other law enforcement groups to curtail transnational criminal organizations operating between the United States and Panama.
Ganjei said they specifically discussed significant cases involving 'Clan del Golfo,' a Colombian cartel encroaching into Panama.
According to the DOJ, "the Clan del Golfo is a drug trafficking organization responsible for multi-ton cocaine shipments originating from Colombia, Ecuador, Panama, Costa Rica, Guatemala, and Mexico for further distribution to the United States. The organization airplanes, go-fast boats, semi-tractor trailer trucks, and passenger vehicles to transport the majority of its cocaine shipments."
The Eastern District of Texas said their partnership with Panama has "generated tremendous results" and that more than 145 tons of cocaine had been seized and 75 people extradited.
"Protecting our communities, fighting the scourge of drug and human trafficking, and combatting money laundering and fraud requires a strong relationship and effective communication between national partners with shared values including a commitment to the rule of law," said Ganjei in a statement.
Ganjei said they were grateful for the cooperation of the Panamanian government and added they were a vital partner in fighting transnational organized crime and the importing of narcotics.