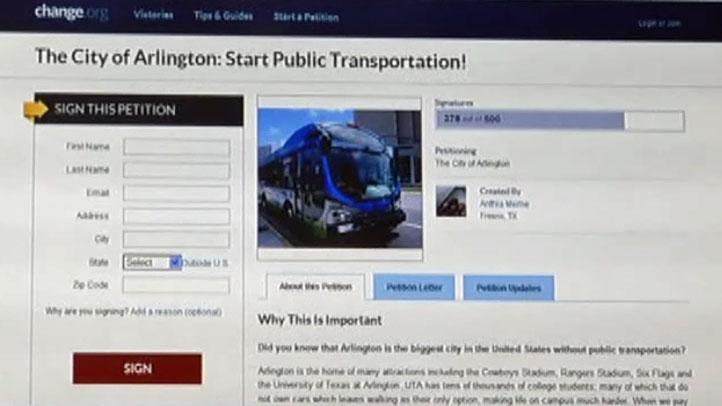 Arlington voters have rejected proposals for mass transit time and time again, but a college student is hoping the city is different today.
Anthia Meme, a nursing student at the University of Texas at Arlington, has started an online petition for public transportation.
"I wasn't really trying to start a revolution," she said. "I just thought we deserved it. [Arlington] has all these attractions here -- Cowboys Stadium, Rangers Ballpark. We have so much going for this city, so public transportation should come with all that."
Local
The latest news from around North Texas.
Meme, who is from Houston, said she was shocked to learn that Arlington was the largest city in the country without mass transit.
"I was just sitting in political science class, and my teacher asked me, 'Did you know Arlington is the biggest city in the U.S. without public transportation?' And I was like, 'What? Really?'"
Arlington voters have rejected measures for public transit in the past.
However, Arlington is a different city today, Councilwoman Kathryn Wilemon said.
"A lot of things have happened in Arlington," she said. "We have an entertainment district, two great sports venues and a lot more visitors than we did the last time we voted for transportation."
But Wilemon said that any momentum for a public transit system would likely have to begin among residents.
The councilwoman said a mass transportation system is more than just a transportation issue.
"It's about environmental issues, economic development, mobility of moving workers in and out," she said. "It's a big issue, and we have people still talking about it, and we have people who still don't want it. We have congestion in the city, but even more, we need to move people."
Meme's petition needs 500 signatures before she is eligible to go before the City Council. As of late Thursday afternoon, it had 444 supporters.
"I'm not going to stop until they literally say 'No,'" she said. "And then I probably still won't stop."