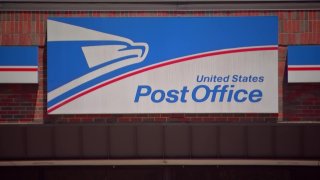 The U.S. Postal Service launched its pilot of a same-day delivery program for small businesses in Dallas Monday, USPS said in a press release.
USPS Connect Local, part of a broader USPS Connect program, is intended to help small businesses provide local same-day or next-day package delivery.
Businesses who enroll in the program will have to drop off packages at a designated post office in the morning between 5 a.m. to 7 a.m. for same-day delivery, USPS said.
Three post offices in Dallas were chosen for Monday's pilot launch:
Joe Pool Post Office: 5521 South Hampton Road
Juanita Craft Post Office: 3055 Al Lipscomb Way
Beverly Hills Post Office: 2202 South Cockrell Hill Road
According to the USPS, those three post offices will service the following ZIP Codes: 75224, 75232, 75237, 75376, 75204, 75210, 75215,75223, 75226, 75246, 75315, 75371, 75211, 75233, 75236 and 75249.
Businesses who want to join the USPS Connect Local program in those ZIP Codes can learn more at the USPS website here.