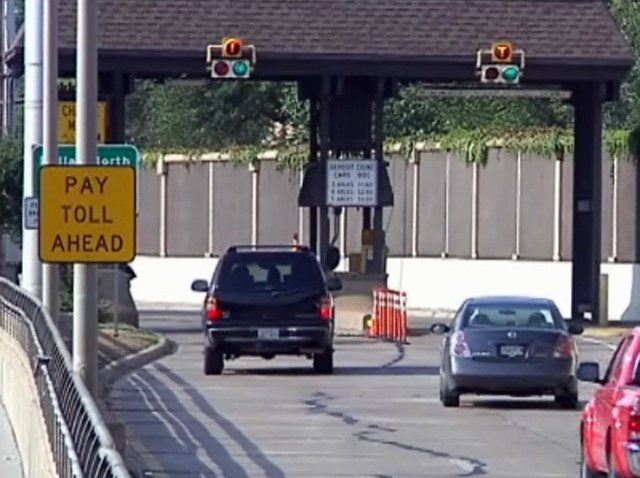 Debra Shumate will never forget the Kenny Chesney concert she went to in 2008 -- because of the tollway bill she racked up on her way home.
Shumate said she's not a fan of toll roads. But she got lost and ended up on the Dallas North Tollway and the President George Bush Turnpike, both part of the North Texas Tollway Authority.
"(I) didn't see the tollbooths or whatever to stop and pay, so (I) got home (and) called them a day or two later and said, 'How do I pay that?' And they said, 'Don't worry, we'll invoice you,'" she said.
Local
The latest news from around North Texas.
The invoice came two years later -- in March 2010.
"It's ridiculous," Shumate said. "I owe $6.60, not charge me $150 in administrative fees when they waited two years to invoice me."
NTTA spokeswoman Sherita Coffelt said Shumate should have stopped and payed cash at the toll instead of going in the toll tag lane.
"Because she went through the express lane when there was an option to pay cash, she was automatically considered a violator," Coffelt said.
Coffelt said ZipCash lanes were not available at that time. A ZipCash lane would have sent Shumate an invoice for the toll amount.
But Coffelt also said the NTTA isn't sure why Shumate's bill took two years to show up in her mailbox.
"Even though it was clear that she was a violator, we should have billed her in a more timely fashion," she said. "It shouldn't have taken two years. We're looking into why that occurred."
In the meantime, Shumate said she has talked to NTTA officials after a reporter inquired about her bill.
John Bannerman, NTTA customer service director, apologized to Shumate in an e-mail that her "request for escalation was not followed up as quickly as it could or should have been."
Shumate said NTTA officials waved the $150 in administrative fees and allowed her to pay the $6.60 she owed for the initial toll violation.
Previous Coverage: