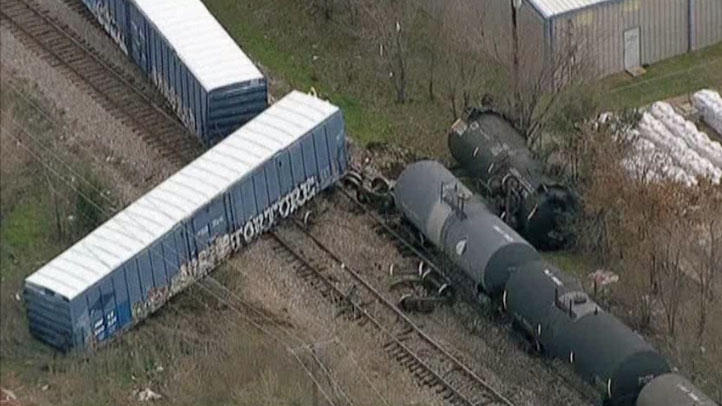 Last week's train derailment in Arlington, the second in less than six months, is raising safety concerns, but the city says it does not have the authority to create tougher rail safety.
Six Union Pacific train cars hopped off the railroad tracks in downtown Arlington on Feb. 17. In October, a train collided with another, causing a derailment in west Arlington.
Neither case resulted in injuries.
Local
The latest news from around North Texas.
"There's a lot of business in this area, and it could have have hit anyone of them and injured and killed a lot of people," said Emmy Klein, marketing manager at the Theatre Arlington, which is located about 30 feet from the railroad tracks.
There's also the concern that, since trains sometimes carry hazardous material, a crash could lead to a leak. That hasn't happened but it is a risk that carries a financial incentive for Arlington.
"Union Pacific is very important to our community because of the commerce that passes up and down those rails. But at the same time, from a citizen's perspective, we want to make sure we're prepared for any contingency," said Arlington Councilman Jimmy Bennett.
The city said the most it can do is prepare to react to an accident.
"There isn't anything a city can really do to create tougher standards for rail safety," Interim City Manager Bob Byrd said. "It is interstate commerce, and it is already so heavily regulated on a federal level. There is very little we can do on a municipal level that can supersede those standards."
When the city has concerns, it goes straight to Union Pacific and tries to work with the company to resolve the issue, Councilwoman Kathryn Wilemon said.
Wilemon said the partnership has had its rocky moments but has improved over the last few years.
"Our overall feeling is that we are safe here, but we would like to make sure something like this doesn't happen again since we are so close to the railroad tracks," said Jennifer Chaves, manager of Mavericks Bar and Grill, which is located right next to the railroad tracks.
"It's a little frightening," Klein said. "It makes me wonder what they can do to make sure it doesn't happen, especially around business and homes."
"They should be concerned," Bennett said. "It's just like living next to a roads. There are those things that come with our ability to having transportation infrastructure. But what citizens should be confident with is that the city is prepared."
Union Pacific also says safety is a top priority.
"Our employees receive specialized training, and we conduct detailed inspections to ensure trains operate in the safest manner," the company said in a written statement.