A North Texas school district and community is mourning the loss of two students who drowned at a reservoir in Granbury.
The victims were identified Tuesday morning as 18-year-old Oscar Rios and 17-year-old Julio Espinosa-Guerrero. An official cause of death report has not yet been released for both teens.
"Julio was a hard-working man, super happy all the time," remembered his cousin, Bella Espinosa. "He never stopped helping people."
Rios and Espinosa were good friends, she said.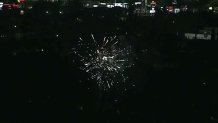 The two had gone to Wheeler Branch Park near Glen Rose on Monday with other friends as part of "Senior Skip Day," Espinosa said.

Local
The latest news from around North Texas.
Rios started to go under, Espinosa tried to save him, and they both drowned, she said.
"He's defintely a hero to us," Espinosa said. "That's how we want to remember him. He died because he wanted to be a hero and he is still a hero."
Rios' cousin, Wendy Guarjardo, said Rios dreamed of one day becoming a doctor.
"He was a very happy guy," Guarjardo said. "He always had a way of making everyone smile."
She said the family was trying to make arrangements to bury Rios in Mexico, where his parents live.
The family of Rios has opened a GoFundMe account to help with funeral expenses.

The Granbury Independent School District posted to their Facebook page Monday evening writing in part, "Granbury High School is mourning the loss of two students who tragically passed away Monday. This was not school related."
The two victims were air-lifted from the reservoir to a Fort Worth hospital, where they were pronounced dead, according to the Texas Game Warden.
Granbury ISD has counselors on staff at the high school to help any students or staff who may want to talk about what happened.
Wheeler Branch Park is about 54 miles southwest of Fort Worth.