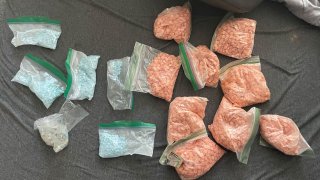 Twin brothers, including one who was out on a bond on a murder charge in Dallas County, are now facing multiple felony drug charges in Denton, police say.
According to the Denton Record-Chronicle, police seized 8.8 pounds of pills containing fentanyl and methamphetamine after arresting 20-year-old twin brothers Julian and Tristan Sesalem last week.
Police said in a statement they were investigating Julian in connection with pressed pills laced with fentanyl and learned he was at his apartment with a large number of pills.
When detectives detained the twins inside a vehicle outside the apartment, they said they found that Julian was in possession of not only pills but also a handgun. Detectives said they also noticed Julian was wearing an ankle monitor and learned he was currently out on bond for a murder charge out of Dallas County.
Police obtained a search warrant for the apartment and said they found "a large quantity of additional pills inside."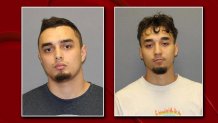 Denton police said both brothers lived at the apartment and that they have both been charged with the same three felony charges of manufacture and delivery of a controlled substance penalty group 1 and 2.
Local
The latest news from around North Texas.
Tristan and Julian are each being held in the Denton County Jail on $1 million bonds. It's not clear if they've obtained attorneys.