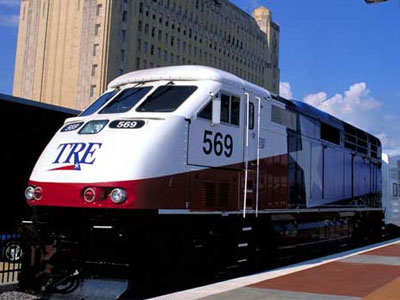 The cost of riding The Trinity Railway Express is going way up.
The Fort Worth Transportation Authority Board is raising the price of a one day pass by 33 percent from $7.50 to $10 to help cover increasing operation and capital costs as well as declining sales tax. Weekly, monthly and annual passes will also be going up.
The increase is the second part of a two-part increase planned in 2009. The rate hike will take place in October, so get your annual passes while they're cheap.
Local
The latest news from around North Texas.
Reduced TRE fares would not go up under the proposed new fare structure, and The T's fares for local bus, local reduced and MITS would not be affected.
More than 95 percent of U.S. transit agencies have had to increase fares, reduce service or both within the past year, according to a survey by the American Public Transportation Association (APTA).
TRE Fare Increases Effective October 2010
Single Ride
TRE 1 Zone
2.50 to $3.50
Regional 2 Zone
$3.75 to $5
Day Pass
TRE 1 Zone
$5 to $7
Regional 2 Zone
$7.50 to $10
Weekly Pass
TRE 1 Zone
$25 to $35
Regional 2 Zone
$37.50 to $50
Monthly Pass
TRE 1 Zone
$75 to $100
TRE Regional 2 Zone
$105 to $120
No increase in Reduced TRE fares
Single Ride - 1 Zone - 75 cents
Single Ride Regional 2 Zone - 85 cents
Day Pass - 1 zone - $1.50
Day Pass - Regional 2 Zones - $2
Weekly Pass - 1 Zone - $7.50
Weekly Pass - Regional 2 Zones - $9
Monthly Pass - 1 Zone - $25
Monthly Pass - Regional 2 Zones - $32
---
Get the the latest news direct to your phone with NBC DFW SMS alerts. Text "DFWBreaking" to 622339 (NBCDFW) to subscribe to this free service. (Message and data rates may apply through your mobile carrier).

Read more about it here.