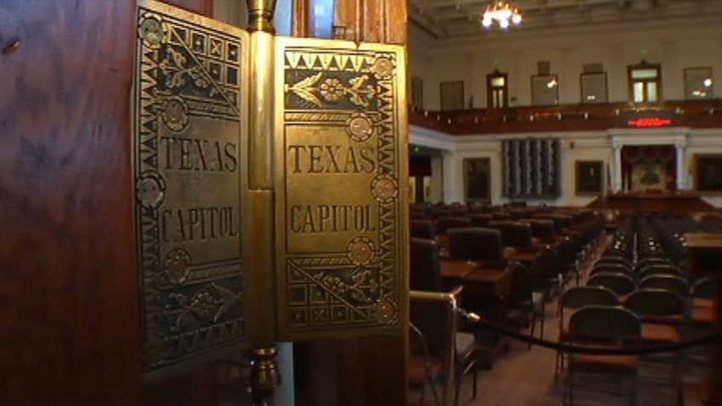 After hours of exhausting debate on a sweeping proposal limiting abortion, the Texas House made quick work of other key bills, voting early Monday to approve funding for major transportation projects statewide and authorize tougher new sentencing guidelines for 17-year-olds convicted of capital murder.
Those votes capped a whirlwind of activity as the 30-day special session enters its final hours ahead of its conclusion at midnight Tuesday night. The Senate also passed and sent to Gov. Rick Perry's desk new voting maps for the Legislature ahead of next year's elections.
But that series of approvals came after nearly the entire night was gobbled up by the omnibus abortion measure, which cleared the House despite more than 800 protesters packing the Capitol and Democrats trying desperately to delay the process.
Local
The latest news from around North Texas.
Preliminary House passage of that bill came at 3:30 a.m. Monday, or 13-plus hours after the lower chamber began work. The measure must still clear a final House vote before heading to the Texas Senate, which now may have to scramble to approve it in time.
Perry called the Legislature back to work immediately after the regular session ended May 27, and asked lawmakers to make permanent the voting maps drawn by three federal judges in San Antonio. Attorney General Greg Abbott says that will stop a lawsuit to completely overhaul the state's political districts, which were redrawn based on the 2010 census but have triggered a series of court battles.
The Senate on Sunday passed voting maps already approved by the House, meaning they've cleared the Legislature. But its members then adjourned to wait for the lower chamber to tackle the other items on the governor-mandated special session to-do list: abortion, transportation and juvenile justice.
The abortion bill would ban undergoing the procedure after 20 weeks of pregnancy, the point at which anti-abortion activists claim a fetus can feel pain -- despite a lack of scientific evidence to support that. It also seeks to force many clinics that perform the procedure to upgrade their facilities to be classified as ambulatory surgical centers. Doctors would be required to have admitting privileges at a hospital within 30 miles.
Abortion rights groups complain the upgrades are expensive and unnecessary, and say many religious hospitals deny admitting rights to doctors who perform abortions.
They also warn the practical effect of the bill would be to shut down most abortion providers statewide, making it very difficult for Texas women to have the procedure.
The bill drew hundreds of protesters in orange T-shirts who jammed the rotunda and filled the House gallery to demand that lawmakers defeat the abortion restrictions. But before debate could even begin, Houston Democratic Rep. Sylvester Turner used a parliamentary tactic that forced the chamber to adjourn for more than two hours.
After that, House Republicans postponed all other bills to ensure debate moved forward on abortion.
Rep. Jessica Farrar, D-Houston, claimed the GOP was ramming the bill down Texans' throats. Republicans holds majorities in both the House and Senate.
"This isn't about what the state wants," she said from the floor, "it's about what Republican voters want."
That prompted protesters in the gallery to rise and cheer as House Speaker Joe Straus banged the gavel and implored the crowd to heed the Legislature's rules against outbursts.
As late Sunday night became early Monday morning, the Democrats proposed a string of amendments to the abortion bill, all of which failed. Still, delaying initial House approval of the bill into Monday may jeopardize its final passage since it allows Senate Democrats to stage a filibuster there until midnight Tuesday.
"Why can't we trust women with their organs?" asked San Antonio Democratic Rep. Jose Menendez.
But Rep. Bryan Hughes, a tea party Republican from Mineola, countered: "I think the people of Texas expect us to take a position on this bill."
When that bill passed, the House then voted 95-9 to conform with a recent U.S. Supreme Court decision banning sentences of life in prison without parole for offenders younger than 18. Current state law only allows a life sentence without parole for 17-year-olds convicted of capital murder.
Similarly sailing through the lower chamber, the transportation measure seeks to divert nearly $1 billion annually from the state's reserve fund toward building and maintaining roads. State transportation officials have warned lawmakers that Texas needs to spend $4 billion more per year just to keep up with its rapidly expanding population.
The road fund would require amending the state constitution. It would go before voters statewide in November.
Copyright AP - Associated Press