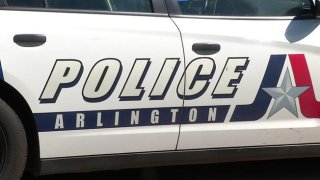 For the second time this month, a juvenile is hospitalized after being shot and three Arlington schools were again locked out due to a report of nearby gunfire.
Arlington police confirmed to NBC 5 they received a call at about 12:30 p.m. about a fight involving teens at a gas station on Arkansas Lane where gunshots were heard.
Officers arrived but didn't find anyone who'd been injured. Later in the afternoon, police were notified by Medical City Arlington that a 17-year-old showed up in the ER with a non-lethal gunshot wound to the foot.
Police said the teen is not being cooperative in the investigation, but that they believe he was part of the fight at the gas station. Police said the teen's parents indicated he was a student at Sam Houston High School.
Police said investigators have identified most of the people involved in the fight and are talking with them.
The Arlington Independent School District confirmed Monday afternoon that three schools, Adams and Atherton elementary schools and Sam Houston High School, were all placed on lockout due to police activity in the area.
The schools, which are located within a mile of each other, were also placed on lockout on Sept. 13 when a shooting was reported on Sherry Street.
Local
The latest news from around North Texas.
In that shooting, officers found a car with bullet holes but like Monday's shooting didn't find any victims. Later that afternoon, a person identified only as a juvenile showed up at a nearby hospital with a gunshot wound that was not life-threatening. No further details were given about the juvenile's condition or what led to the shooting.
Arlington police told NBC 5 they do not believe the shootings are related. No arrests have been made in connection with either incident.
Lockout is a security measure where the exterior doors of a school are locked to prevent people from entering the building but students are able to continue classes and moving around within the building. The district said Sam Houston was originally on lockdown, but that condition was changed when police determined there was no threat to the building.