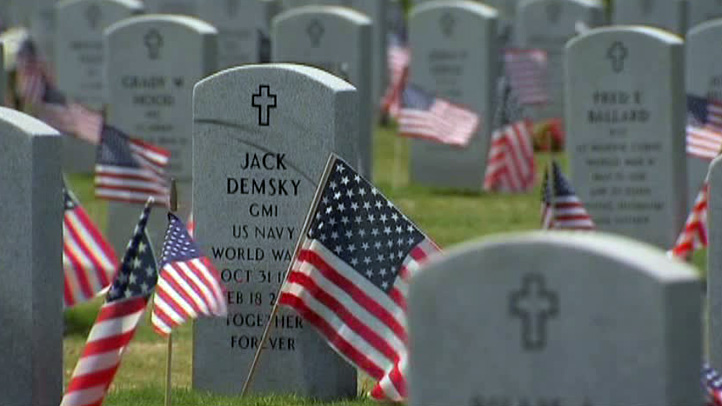 Visitors at the Dallas Fort Worth National Cemetery were greeted by an impressive sight for Memorial Day -- 27,000 American flags, one adorning each grave site, filled the fields of the cemetery.
"It made my heart skip a beat, it was beautiful," says Jeanine Nichols, whose father is among those buried here.
"It just kind of tugs at the old heartstrings when you see a flag up anywhere" says Ron Pemberton, Director of the Dallas Fort Worth National Cemetery. "But when you've got this many of them, it's impressive."
Local
The latest news from around North Texas.
Nearly a thousand volunteers placed the flags Sunday morning, the result of a private campaign to honor each of the 33,000 veterans and family members buried at the cemetery.
Sally Guinn's husband is among them, his simple marker now surrounded by American flags.
"It's gorgeous, it's absolutely gorgeous. It's hard to come out, but it's nice when we get here", says Guinn, who lives in Fort Worth. "It just honors all the servicemen and makes you real proud that you're an American, that he served his country and all these boys out here did too."
"The flags waving in the wind, and the people out here paying their respects, it's very special," says Toni Guinn, Sally's daughter-in law. "This is such a beautiful, beautiful cemetery, it's kind of comforting to know that our loved ones are out here in this."
In fields of flags and headstones, countless others, including many on active duty, also paused to remember their loved ones.
"The flag it represents everything that we fight for," says Sgt. Jeremy Nabors, U.S. Air Force. "So it's awesome that you're out there looking around and you see all these flags on every single grave. It's an awesome sight to see. There's no words that can describe it."
The flags will stay up until Thursday.
Organizers are already planning to place the flags again for Veterans Day, and then both days each year from now on.