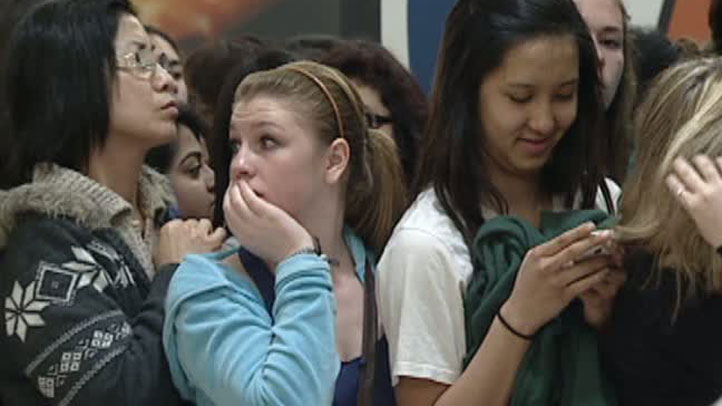 A British boy band nowhere near Frisco still caused quite a commotion at Stonebriar Centre Mall early Tuesday morning.
Thousands of teenagers waited in the predawn hours to buy One Direction's latest CD, "Up All Night," and secure a wristband that would allow them to return at a later date for an autograph session with the bandmates.
If you aren't sure what One Direction is, it is a boy band discovered on Simon Cowell's British version of "The X Factor." The band played Monday morning on NBC's "Today Show" and released its debut single on Sept. 11, 2011.
Local
The latest news from around North Texas.
Virginia Alves and Jennifer Sneary, of Austin, arrived at 5 p.m. Monday for their shot at the wristbands. The pair said a "crazy, mad rush" of people started running for the doors at Barnes & Noble just before 7 a.m.
The pair described the scene as massive amounts of chaos with a lot of people screaming.
In the madness, Haley Martin was knocked to the ground and unable to get up.
"It was just a lot of commotion," she said. "I got caught in the doorway with, like, 20 other people, and then we all just fell, and I ended up on the bottom, and no one was moving, and people just kept running. It hurt really bad, and I was crying, and no one would get up, and the cops would not help me, no matter how much I screamed. It was probably like the scariest moment of my life. I was crying so much, I was like, 'I never want to relive this.'"
Brian King, who brought his daughter to the mall at about 1:30 a.m., said there was no crowd control and that people were told to simply stay in their vehicles until the doors opened at 7 a.m.
"I asked security what their plan was for this, and they said that the plan was were to stay in our cars. I was then told to go back into my car by an overzealous mall cop," he said. "I was staying back, but I was definitely afraid for my daughter's safety. It was just mayhem is what it was. They weren't prepared for this at all."
Frisco police said the department offered to help Stonebriar with crowd control a few days before the event but mall officials declined the help.
One Direction will be at the Stonebriar Centre Mall's Barnes & Noble on March 24 at 2 p.m. to sign autographs and perform one song.
Stonebriar spokeswoman Stacy Schuch said Frisco police have been asked to help coordinate crowd control for the March 24 event. She also said that if safety issues with the crowd arise, One Direction might not perform.
NBC 5's Omar Villafranca contributed to this report.