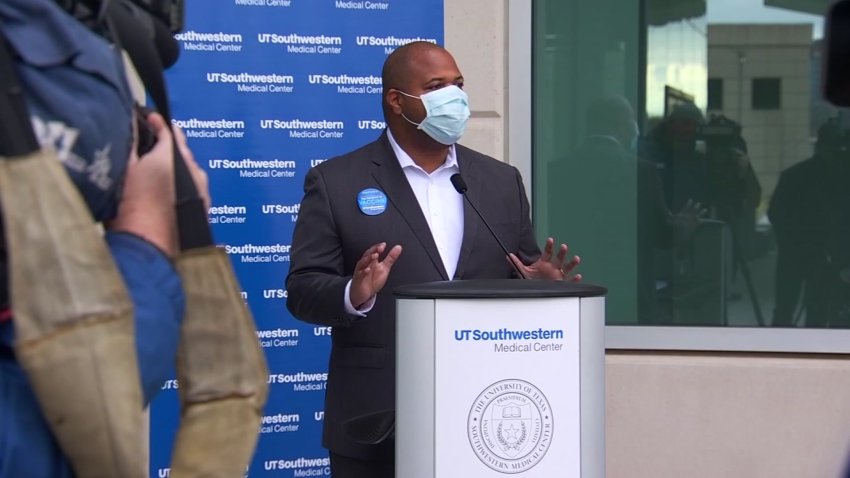 After Governor Abbott released news that Texas will be ending its' mask mandate Monday, Dallas Mayor Eric Johnson informed residents via Twitter that masks will still be required at all city-owned buildings.
"We also still need to practice social distancing. And we still need to avoid taking unnecessary risks," Johnson said. "The pandemic is not over."
The mayor went on to tweet about the necessity of masks in what he calls 'the fourth quarter' of the pandemic. "We're in the fourth quarter here, and we're going to win. Don't fumble the ball now. Wear a mask, and stay on guard," he tweeted.
Until Texas reaches the finish line, Johnson urged residents to get vaccinated and wear a mask.
Vaccination efforts are still emerging, with South Dallas megachurch, The Potter's House opening into a vaccination hub Thursday.
Texas COVID-19 Vaccine Distribution
Data from the Texas Department of State Health Services shows where COVID-19 vaccines have been sent around the state. Click on a marker to find out information about each location. Use the "plus" and "minus" signs below to zoom in and out of the map.
From the Texas DSHS: Availability of COVID-19 vaccines lilsted on this map are based on shipping information and reporting to the DSHS directly by facilities. Please contact providers in advance to confirm vaccination location and hours, that they have vaccine on hand and that you are eligible for vaccination at that site. Not all providers are vaccinating the public or people in all priority groups. Vaccine is available at no charge, regardless of insurance status.
Local
The latest news from around North Texas.
COVID-19 Vaccines
In Texas, the COVID-19 vaccines are currently available to anyone over the age of 5. The vaccines are still not approved for children younger than 5 however -- those trials are ongoing.

Once vaccinated, people who received either the Moderna or Pfizer vaccines are expected to get some level of protection within a couple of weeks after the first shot, but full protection may not happen until a couple of weeks after the second shot. For those who receive the Johnson & Johnson vaccine -- there is only one shot needed.

As of Jan. 3, 2022, it is also recommended those who are age 12 and up and who have been fully vaccinated receive a booster as early as five months after their last dose, for a total of three shots. The vaccine made by Pfizer and its partner BioNTech is the only U.S. option for children of any age.

As for even younger children, kid-size doses for 5- to 11-year-olds rolled out in November and experts said healthy youngsters should be protected after their second dose for a while. But the FDA also said on Jan. 3, 2022, that if children that young have severely weakened immune systems, they will be allowed a third dose 28 days after their second. That's the same third-dose timing already recommended for immune-compromised teens and adults.

Pfizer and Moderna are studying their vaccines, in even smaller doses, for children younger than 5.

Even when fully vaccinated, it's still possible to become infected by the virus since none of the vaccines offer 100% protection from infection. With that in mind, even if you've been vaccinated it's still a good idea to wear a mask and keep some separation between strangers or those whose vaccination status is unclear.