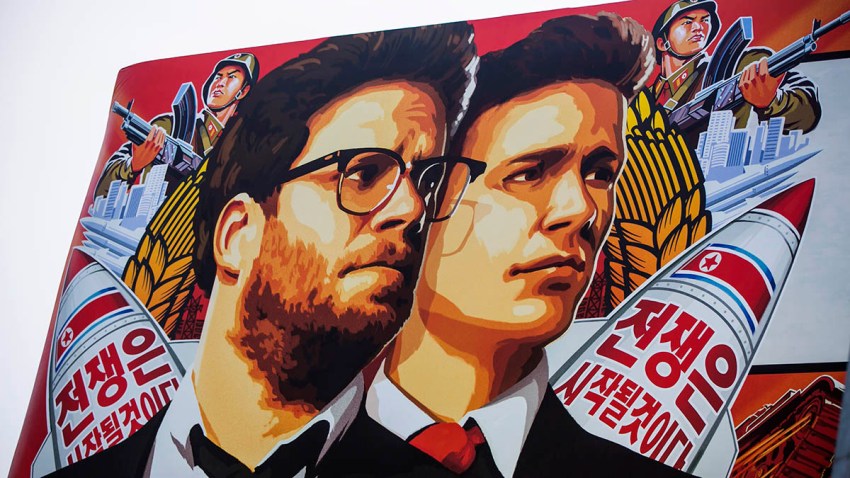 Nearly a week after threats from hackers shelved Sony Pictures' "The Interview," the comedy will be available to be streamed online by noon Christmas Eve and to play in more than 300 theaters Christmas Day.

"The Interview" is a satire starring James Franco and Seth Rogen about a plot to kill North Korean dictator Kim Jong Un. Sony announced last week it had called off the scheduled Christmas release of the film following hacker threats of violence against theaters showing the comedy.
Those who want to see the film will be able to stream it online on Christmas Eve for $5.99 on Google Play, YouTube Movies, Microsoft's Xbox Video and a dedicated website, www.seetheinterview.com. An HD version of the film can also be purchased online for $14.99. Or, on Christmas Day, the film will be shown in around 300 theaters around the country.
"I want to thank Google and Microsoft for helping make this a reality. This release represents our commitment to our filmmakers and free speech. While we couldn't have predicted the road this movie traveled to get to this moment, I'm proud our fight was not for nothing and that cyber criminals were not able to silence us," said Michael Lynton, chairman and CEO of Sony Entertainment.
Local
The latest news from around North Texas.
Tim League, the owner of Alamo Drafthouse Cinemas, tweeted shortly before 11 a.m. Tuesday that Sony had authorized the Christmas Day screenings of the film and that his chain of theaters would be screening the film. All five screenings scheduled at the Alamo Drafthouse's Richardson location were quickly sold out.

In a message posted to its Facebook page Tuesday night, the Historic Texas Theatre in Oak Cliff announced it would also show the film beginning with four showings Thursday at 2:30 p.m., 5 p.m., 7:30 p.m. and 10 p.m. As of 11 a.m. Wednesday, tickets were still available.
"The people have spoken! Freedom has prevailed! Sony didn't give up!" said Rogen on Twitter.
Rogen, who stars in the film he co-directed with Evan Goldberg, hadn't made any public comments throughout the surreal ordeal that began with hackers leaking Sony emails and culminated in a confrontation between the U.S. and North Korea. The FBI has said North Korea was "centrally involved" in the hacking attacks.
"VICTORY!!!!!!!" said James Franco, who co-stars in the film. "The PEOPLE and THE PRESIDENT have spoken."

Sony released the following comment Tuesday after several theaters around the country scheduled screenings on Christmas Day.
"We have never given up on releasing The Interview and we're excited our movie will be in a number of theaters on Christmas Day," said Lynton, "At the same time, we are continuing our efforts to secure more platforms and more theaters so that this movie reaches the largest possible audience."

By appearing in as many as several hundred theaters (Sony did not immediately say how many theaters will show the film), "The Interview" will open in far from the wide release originally planned in some 3,000 theaters.
"I want to thank our talent on The Interview and our employees, who have worked tirelessly through the many challenges we have all faced over the last month. While we hope this is only the first step of the film's release, we are proud to make it available to the public and to have stood up to those who attempted to suppress free speech."