Texas Woman's University is breaking ground on a new center that will help fill vital career gaps in the healthcare workforce.
The $107 million, state-of-the-art health sciences center will expand programming and training for students seeking health-related careers, increase the number of professionals in high-demand health fields and extend critical health services to rural, underserved areas of North Texas.
Here's a first look at the rendering of the 136,000-square-foot facility, which is being built on seven acres adjacent to Parliament Village, a TWU residential community.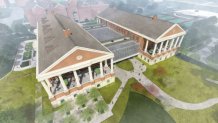 It will serve students in the allied health care fields — such as nursing, physical therapy and occupational therapy — with a special emphasis on preparing students to serve in rural settings.
"This is exciting in many, many ways but especially because it really is going to meet the needs of the region in ways that are desperately needed. There's this explosive population growth in North Texas as you know, which really demands more health care professionals, especially in the rural communities," said Carine Feyten, Texas Woman's Chancellor.
With much of Denton County and beyond made up of rural communities, this new campus will also focus on preparing students to serve in those rural areas that are in desperate need of trained and dedicated healthcare workers – alongside the growing population in DFW.
Local
The latest news from around North Texas.
"I cannot underscore that enough, this idea that we really need to constantly think about what, what are the new needs. So we have population growth. It demands a different type of service, it demands a different way of thinking. And so this is, I think something that we have a track record of doing in many different ways and, and that really is critical for the future," said Feyten.
The building will include labs, classrooms, collaborative workspaces, outdoor clinic sites and a teaching kitchen, as well as community health care clinics and training spaces for students.
This vision was part of the proposal to the state lawmakers in 2021, when TWU made a request for funding during the regular legislative session.
"It was during the special legislative session that lawmakers really authorized a $3.3 billion campus construction initiative that awarded dozens of new buildings at state universities. And the legislature approved $100 million for the health science center, which was one of only four projects in the state really that was approved at that price tag," said Feyten. "So we're really fortunate to have that here. The state really recognized the need for this."
The center also will spur collaborative programming among the university's five colleges, with a specific goal to graduate 30% more nursing and health care professionals. This goal is in support the state's plan to produce more health professionals amid a state-wide shortage post pandemic.
"This new facility will bring students and faculty from different professional perspectives together in spaces, labs and clinics specifically designed for collaboration and team building," said Feyten. "This innovative educational experience will produce workforce-ready professionals who have a grounding in a patient-centered, whole-person approach to health and healing in a field not only desperate for more professionals but transformational leaders."
The building project is scheduled for completion in summer 2025, with opening set for fall 2025.
The new center coincides with the launch of the public phase of a historic $125 million fundraising campaign, Dream Big, which will support TWU's continued growth and leadership development in health and life sciences, financial and business services, entrepreneurship, technology and aviation.
To date, the university has raised more than $103 million in support of the campaign.