Texas - no, not Florida - homeowners were stunned to see a huge visitor crawling around their neighborhood this week.
A 10-foot alligator was found roaming the streets of a subdivision in Atascocita, located about 30 miles northeast of Houston down in Harris County, according to a tweet by Constable Mark Herman.
Neighbors told Houston NBC affiliate KPRC that the gator was first spotted on a surveillance camera partially underneath a truck in someone's driveway early Monday morning.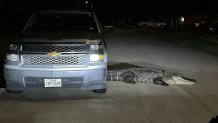 By the time police arrived, the alligator was back in the street.
Law enforcement officers called a specialist to the scene who covered the animal's face with a hoodie and tied it up. Then he worked with a tow truck driver to lift the gator into the bed of his pickup truck before driving away.
Texas News
News from around the state of Texas.
The alligator is now safe with Animal Control.
A homeowner told KPRC said there are many gators in the neighborhood bayou, but they're much smaller than this one.