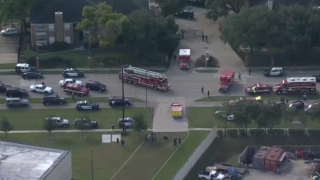 A longtime Houston police officer was killed and a second officer, a teenager and the suspected gunman were all wounded during a gun battle over domestic property Tuesday morning, police say.
Acevedo said officers arrived at the apartment in southwest Houston at about 8 a.m. Tuesday where they met a woman who said she was moving out and needed to retrieve her belongings, but that her estranged husband would not let her in their apartment.
Officials said the woman had tried to retrieve her property twice before over the weekend, with the assistance of police, but that there was no one home.
About an hour and a half later, the woman's 14-year-old son opened the apartment door and saw 51-year-old Elmer Manzano holding a gun. He told police the man was armed and it was then that Manzano allegedly came outside and began shooting at the officers, Acevedo said during a news conference Tuesday afternoon.
Sgt. Harold Preston, a four-decade veteran of the force, was shot multiple times in the head and shoulder, Acevedo said. Paramedics rushed Preston to Memorial Hermann-Texas Medical Center where he later died.
"We've lost a wonderful human being here at the hospital," Houston Chief of Police Art Acevedo said.
Texas News
News from around the state of Texas.
Meanwhile, SWAT officers surrounded the apartment building and Manzano eventually surrendered at about 10:30 a.m. without further incident, Acevedo said.
Acevedo said Preston was a 41-year veteran of the department and was a hero.
"I'm not calling him a hero because of the way he died today, but he is a hero. He's a guy that's in his 60s … and he's leading from where we want our sergeants to lead, from the front. He's leading men and women on the streets instead of from the office drinking coffee," Acevedo said."
Acevedo said doctors were able to keep Preston alive long enough for his fiancé, ex-wife, daughter and others to arrive at the hospital. Preston, Acevedo said, lived with and took care of his elderly parents, whom the chief said he knew personally.
"As good as he was as a cop, he was a better human being. That's just the guy that he was and we're going to miss him," Acevedo said.
Ofc. Courtney Waller was shot in the arm and is in stable condition at a hospital. He is expected to make a full recovery.
Manzano and the 14-year-old were also shot and are expected to survive. Acevedo said he expects Manzano to be charged with murder and that police have repeatedly responded to domestic calls at the home.
Acevedo said Manzano has an extensive criminal history, but declined to provide details.
Texas Gov. Greg Abbott (R) issued the following statement Tuesday afternoon.

"Our hearts are with the family of Houston Police Sgt. Harold Preston who was shot and killed in the line of duty this morning. This tragic loss is a grave reminder of the dangers our brave law enforcement officers face while keeping our communities safe. Cecilia and I ask our fellow Texans to join us in lifting up Sgt. Preston's family in prayer in their time of need. We also ask all Texans to pray for the speedy recovery of Houston Police Ofc. Courtney Waller who was shot while responding to the same incident and is recovering in the hospital. The state stands ready to assist the Houston Police Department in bringing to justice the perpetrators of this horrific tragedy."
Texas Attorney General Ken Paxton issued the following statement Tuesday.

"Texans grieve today, yet again, as a courageous police sergeant was senselessly murdered in the line of duty. Officers around our state bravely serve and deserve our utmost honor and respect, especially during this time. Please join me and Angela as we pray for Sgt. Preston's family, the people of Houston, and for the recovery of Houston Police Officer Courtney Waller who was shot while responding to the same incident and is now recovering. Now and in the days ahead, my office stands ready to support the Houston Police Department however we can."