The Texas Division of Emergency Management is asking all Texans with damage from the winter storm to complete an online damage report that will help secure federal assistance.
TDEM Chief Nim Kidd, along with Major General Tracy Norris of the TMD and Toby Baker of the TCEQ, provided an update Saturday afternoon on the state's recovery thus far.
In the news conference, Kidd mentioned that President Joe Biden partially approved the state's request for a major disaster declaration for individual assistance, but only for 77 of the state's 254 counties, and a statewide public assistance request.
Winter Weather Recovery
After several days of sub-freezing temperatures, some melting is expected Friday and Saturday.
"I thank President Biden for his assistance as we respond to impacts of winter weather across our state," Gov. Greg Abbott said in a news release. "While this partial approval is an important first step, Texas will continue to work with our federal partners to ensure all eligible Texans have access to the relief they need. The funds provided under the Major Disaster Declaration may provide crucial assistance to Texans as they begin to repair their homes and address property damage."
Several North Texas counties were included in the 77-county approval, including Collin, Dallas, Denton, Ellis Hood, Johnson, Kaufman, Tarrant and Wise. To apply for federal assistance, and see a complete list of approved counties, visit disasterassistance.gov and click on Texas on the map.
For North Texans navigating what comes after property damage, even if their current insurance policy covers all the damage, it's a daunting process with many more questions than answers.
"There's not really a road map for this, it's not like you grow up learning how to file massive insurance claims," said Matt Morrision, whose home was severely damaged by water from a cracked pipe.
Morrison said he felt lucky that his policy covers everything that was damaged and even feels empathy for insurance adjusters who are stretched thin by claims.
"I actually have a lot of empathy for my claims rep because he is getting so inundated," said Morrison. "We don't have all the answers, we have a lot of questions at the moment and so really the best thing we can do is accomplish what we need to to get to the next day and trust God is going to take care of it."
For those in any of the 177 counties not currently approved for individual assistance, Kidd said it was very important those Texans fill out the state's damage assessment report which will be used to hopefully secure more federal relief.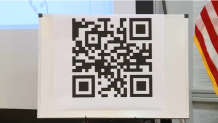 The state is using the QR code above to direct people to a self-reporting tool where they can provide their own damage assessment. Click here to access the tool from this article.
Kidd said the state, meanwhile, continues to deliver food and water to Texans recovering from the storm. He said another half-million meals were on the way to Texas and that another one million bottles of water would be distributed on Saturday.
Kidd said the state's 331 mass care/warming centers are still open and will remain open until all of the people using those centers have reliable utilities (power and clean water) in their homes.
Major Gen. Norris said the Texas Military Department is very active and is using C-130s, C-17s, Blackhawk and Chinook helicopters to move food, water and other relief supplies around the state.
Norris said there were more than 3,200 soldiers and airmen working on the relief effort and that more are being added as reservists call their armory to see if they can help.
"These are citizen soldiers and so supporting Texas, that's one of the jobs we do and they're out there doing it," Norris said.
Baker said local utilities are working 24/7 to restore water service in all of the state's water systems. Baker said there were roughly 1,400 systems across the state still testing water -- those systems impact about 14.3 million people.
The TCEQ is assisting local water departments in finding labs to test water for cleanliness and that the EPA was setting up three labs across the state to help in that effort. He added some municipalities with their own labs have offered to help smaller cities test their water.
Click here to learn how to support disaster relief efforts in North Texas and make a donation to the American Red Cross
Baker said the TCEQ is going to take full advantage of the winter event to learn from their failures and will review state and federal regulations to see where it makes sense to harden the infrastructure to prevent such failures from reoccurring.
"We've never seen a winter weather event like this in the state of Texas in recorded history, that I'm aware of. Our water systems are really built for heat. We saw multiple failure points … generators are built to run in the middle of the summer when it's hot outside not when you have five to seven days of extremely cold temperatures," Baker said. "So this has been a huge learning experience. I'm not aware of ever having issues of this magnitude from a water system standpoint in the history of the state."
NBC 5's Jack Highberger contributed to this report.