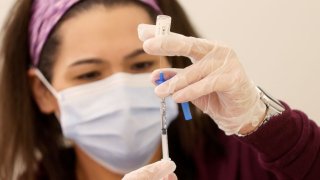 With more than 800,000 doses expected, Texas will receive its third-largest vaccine shipment to date next week since vaccinations began last December.
The number is down from the 1 million doses received this past week, due to the drop in available Johnson & Johnson's vaccines. The state anticipates more of the J&J vaccine to become available as production increases.
The Texas Department of State Health will give 656,810 doses to at least 445 providers in 178 counties, with the remaining 200,000 doses granted by the federal government, passed on to pharmacy locations and federally-qualified health centers.
Want to Get on a Vaccine Waitlist?
County health departments have launched waitlists for adults 16 years old and over.
You can register to recieve the vaccination in Collin, Dallas, Denton and Tarrant counties. Links are below:
Waitlist Links: Collin - Search Waitlist | Dallas | Denton | Tarrant
You do not need to be a resident of the county to register for a COVID-19 vaccine in that county -- registration is open to anyone in Texas. For those without internet access, Tarrant County is also taking registrations by phone at 817-248-6299. In Dallas County, call the DCHHS vaccine hotline at 1-855-IMMUNE9 (1-855-466-8639). In Denton County, call 940-349-2585.
For a more detailed breakdown of who is included in each priority group in Texas, see this page from the Texas DSHS.
Much of the state will soon shift to focus on second doses in the upcoming week after federally-supported sites in Arlington, Dallas and Houston finish their three-week first dose cycle, and the state orders 578,320-second doses to arrive soon in addition to the 800,000 doses coming in for next week.
Individuals should be able to receive their second dose within six weeks of receiving the first.
After 1.4 million doses last week, Texas has given 7.6 million doses since beginning vaccinations in December. More than 5 million individuals have received the first dose, with fully vaccinated Texans totaling 2.7 million people.
One in three Texas seniors have been fully vaccinated and 55% have received their first dose.
In Texas, one in eight individuals at least 16 years old have been fully vaccinated.
For more information visit the Department of State Health website here.
In Texas, the COVID-19 vaccines are currently is currently available to anyone over the age of 16, regardless of in which phase they had previously been grouped. President Biden said on April 6 the vaccine should be available to all Americans, in all states, by April 19.
The vaccines are still not approved for children however -- those trials are ongoing.
Once vaccinated, people who received either the Moderna or Pfizer vaccines are expected to get some level of protection within a couple of weeks after the first shot, but full protection may not happen until a couple of weeks after the second shot. For those who receive the Johnson & Johnson vaccine -- there is only one shot needed. Even when fully vaccinated, it's still possible to become infected by the virus since none of the vaccines offer 100% protection from infection. With that in mind, even if you've been vaccinated it's still a good idea to wear a mask and keep some separation between strangers or those whose vaccination status is unclear.
Waitlists for vaccinations have been established in Dallas, Denton, Collin and Tarrant counties -- links to sign up are here and below.